Three days at a rose festival...
The summer garden visit is looming - just four more days! And I'm heading off south with a gardening friend to spend the next three days at a rose festival. While I'm away the weeds had better not decide to have a home-alone party!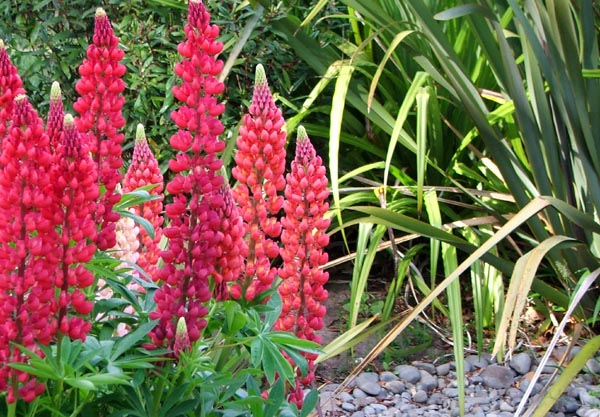 Summer Lupins
Wednesday 21st November
Right. Today I am not allowed to go walking - partly doctor's orders, partly Head Gardener's. It's my last full day to - eek - get the Moosey garden ready for the weekend visitors.
The plan today is to cruise every pathway (climb every mountain?) removing obstacles. Then check every garden border edge for obvious weeds and/or serious signs of neglect. All garden seats get a rub down, and all lawns are checked for dog and cat mess. The rubbish heap needs to be burnt and the hen house cleaned out. The cleaning of that hen house deserves a journal prize - for being the task most mentioned while not actually being done.
Too Late!
Too late I've located some local pea-straw. Too late I've discovered that there's hardly any colour in the garden. I need some instant flowering annuals - ha! The nursery! It's far too late for getting the Pond up to scratch, unless I go on a Hebe buying spree. Hmm...
Blue Scabious Flowering
On the up-side, the water race edges are in a better state than they were - but no-one saw them then... And at least my paths are mulch-covered rather than weed-covered. And the Head Gardener is alive and well, bubbling over with drive and personality. She's happy to show off her latest lifetime's obsession (i.e. the garden) to thirty ambling women in silly shoes and frilly dresses. Aargh!
Hello Hens!
Lunchtime...
So far, so good. All the Hen House Garden edges and paths (my goodness there are lots of paths!) are organised. And such a sweet smell, coming from the fresh barley straw inside the hen house itself!
Eggstacy?
While I worked there was a huge chook commotion. It's difficult to judge whether the egg-laying moment is ecstatic or terrifying for a hen.
I've just had a silly thought - imagine if I spent as much time cleaning my house as I do my garden... Right. I'll allow, say, ten minutes for the legs to rest and the cup of tea to hit the spot. Then I'll return to further garden duty with my faithful dog. We are both covered in sticky biddi-bids (forget-me-not seeds), and as such are not allowed to flop into any house couches.
Amazing News for my South African Gardening Friend!
Wow! Great news for friend Jack, who is a far far better gardener and writer than I shall ever be, even in my dreams... The national Afrikaans Sunday paper, the Sunday Times, has an article on the Tzaneen garden route - this includes Jack's garden at Sequoia Farm.
Montgomery :

If you stare at the very first picture you'll see Mongomery the dog, the Moosey Pet of the Month in July 2006.
Wow! Two global gardening legends - is there room in the Gardening Hall of Fame for both of us? With our respective Alpha male dogs, of course - though Rusty is more of a Zeta male. Probably because there are eight Moosey cats who boss the pants off him.
Late Afternoon...
Humph... I am resigning from the Garden Hall of Fame. I have never found so many visible weeds, nestling alongside paths or stone edges, as I have today. I've been running the hoses, too, getting my little stream organised, and watering the gardens by the Pump House. Things in here look parched. I want more rainfall!
White Iceberg Rose
The more detail I attend to the more mess I find. My foot hurts, and I'm sick of bending over to pull out little insignificant green things. I've even burnt the saucepan with the chooks' tea (potatoes). I shouldn't talk about the garden when I'm tired, though. I only grump. Oops - sorry about that!
Thursday 22nd November
Things I must remember to do today before I leave:
Water the archway roses.
Rake the driveway by the house - those pesky gum leaves!
Burn rubbish heap.
Find my garden gnome - he's seriously lost in the rockery.
Eek! I can't think of any more things. And there must be at least a hundred! Maybe I'll pop into the nursery on the way home from swimming and buy some large trays of colourful pansies. Experienced garden hostesses just pop a few into an urn and hey presto! Instant appeal in a boring garden gap. But how many boring garden gaps are there in the Moosey Garden? And how can a garden gnome, an inanimate lump (sorry if this offends anyone) of something solid, disappear without a trace? Aargh! Eek! Goodbye until Sunday.
It's Sunday 25th November, and I'm Back...
Eek! The garden is looking - well, OK, but weedy! I knew this would happen. Weeds are subjective little critters, and often only visible when escorting or expecting visitors.
Garden Visitors
I have just spent two lovely days enjoying plump roses in weed-free borders. I've missed my cats (good morning to Percy-on-my-lap), and wondered about my big shelter trees, which were being felled in my absence. I'm pleased to report that half the trees are down, and all is extremely well. The tree-sky-line is so different, and my 'proper' specimen trees look grand - and majestic - and much, much bigger!
Mature Tree Company
But wait - I have recently been in the mature company of ancient hundred-year-old oaks, beeches, rhododendrons and macrocarpa hedegs, all planted by early settlers with (it seems) pots of money. The rolling south Canterbury hills are full of sweeping drives leading to old homesteads surrounded by trees from the home country. My own trees are just babies, but never-the-less I'm hugging them all and telling them how big and strong they look!
Where is My Lost Garden Gnome?
Right. I have lawn edges to trim and much cosmetic weeding surgery to perform. My randomly organic country garden, which should be plastered in pea-straw and mulch, has to look brilliantly cared for and well-weeded - when it isn't... in sixty minutes... Oops! Out of time! I'll have one last look for my lost garden gnome, and then off to the choir performance! Tra la la...