Snow clean-up days...
Crabapples in the Snow
Today is the first of many snow clean-up days. Non-Gardening Partner and I have been deconstructing the huge tree branches which fell near Pond Cottage. I nip off and stack the smaller bits for the shredder, NGP chain-saws the big stuff into logs for the wood-burner. We are a good team - we've done this before. The property always seems to supply enough firewood for heating for next winter.
Saturday 9th June
I haven't moved back into the cottage as yet - there's still a bit of a hole in the roof, to be fixed on Monday. No nearby garden gnomes have been damaged, even though another huge tree branch had crashed into their pond. I'm happy that the snow has started to melt, and heartened that the clean-up will be easy, if a bit rugged and slow.
Pond Cottage is Repaired
The Pseudopanax shrub-trees in the Wattle Woods have broken badly - they'll need to be pruned waist-high. One large Wattle branch has cracked, but this is good news, since it hangs over my garden and deprives it of sun. Yippee!
Minor Damage, But...
There's a lot of minor Pittosporum damage in Middle Garden, which will be one of tomorrow's jobs. I plan to move systematically though each of the different gardens, making sure that all the dead branches are sawn off in my wake.
Ooooo - the first All Blacks rugby test tonight, against Ireland, which I'm going to watch and enjoy - I hope!
Sunday 10th June
NGP and I are legends this morning. After three hours work a lot of the big stuff is organised. I estimate three days work from brave, lone, uncomplaining me (stashing the logs, piling up the smaller branches, raking up the burning rubbish). I will help with the shredding and then it will be completely done. And I can dance and sing for joy again around the bonfire.
'Obviously a garden clean-up doesn't all have to be done in one day.'

-Moosey Words of Wisdom.
I need to remind myself, yet again, with regards to cleaning up after snow. Obviously a garden clean-up doesn't all have to be done in one day. Obviously. Wise advice for impatient me. The snow is slowly melting. I know this: rivers flow downhill, swallows fly south, and snow in my garden melts.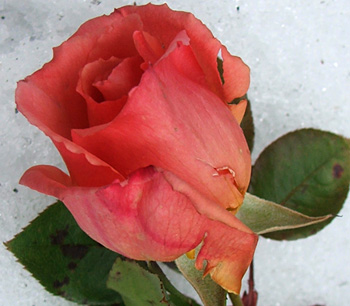 Snow and Compassion
Later...
NGP spent the afternoon repairing the cottage roof, while I (unfortunately) discovered four more large trashed trees - Pittosporums again. I started cleaning them up, but they need the chain-saw. There's too much damage - the plan is to lower them to knee-high and let them sprout into shrubs again. Also one of the remaining Wattle trees has crashed down over Henworld. That's another of tomorrow's jobs.
Monday 11th June
NGP is back from the vet, where Little Mac the kitten is being spayed (she's six months old). Rusty the dog is overweight by two kilograms, so he goes immediately on a dog-diet. No more bready left-overs - toast crusts, and so on. Seems sensible? Right. I'm off to do some more sawing. The more I do the less there is to do. Until I find another branch down!
Tuesday 12th June
A great start to the day - I am back in Pond Cottage, sleeping and waking up in the middle of my garden. I love it out there! My dog is not so pleased - it's day two of his dog-diet.
The Snow is Melting
Today's plans are to go swimming, and then continue cleaning up along the water race. After some serious frosts it's time for the giant Gunnera to be disassembled. All the Phormium tenaxes along the water's edge need dead and broken leaves trimmed (the kitchen steak knives come into their own for this task). The 'tenax' species is by nature a stiff, upright flax. It argues righteously with wet snow, and always loses.
Phormium Tenax in Snow
A Muddy, Slimy Job
So it's a muddy, slimy job that I'll be doing this afternoon, but everything I do moves my garden forward.
Later...
Well, I only moved forwards for an hour and a half, but it beats sulking inside watching daytime TV! I blame the wind chill, blowing off my snowy lawns right through me. New Zealander gardeners are used to wind, but we don't 'do' wind-chill. I finished by chopping through the hugest Gunnera root, sticking right out in the middle of the water. And I've made a sad decision - one of the green Phormium cookianum flaxes is just too squashed to recover. I'll dig it out tomorrow and pot up the smaller pieces, so all is not lost.