Some spectacular gardening is needed...
I'm determined to end the mid-winter month of June in some style. For example, I have a 'new' woolly apres-gardening jersey, my current favourite.
Now some spectacular gardening is needed to precede the donning of this mohair garment. It's gently striped in the blues and greens of New Zealand's paua shell and is soooooo winter-warm...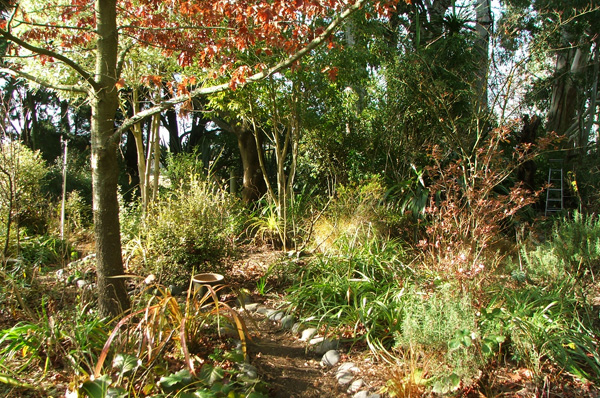 Winter in the Hen House Gardens
Friday 29th June
Today's first plan is inspired by a gift of polyanthus plants from a friend. I'm off to the big hardware store, to see what their gardening section has waiting for me. Maybe I'll get lucky and find some tulip bulbs. Too late? Darn it! Lilies, perhaps? Also buy some potting mix, and then - pots, pots, pots!
Little Mac :

Little Mac the black and white kitten is such good cat company in the garden.
Oops - Little Mac the kitten is urgently trying to communicate with the cosmos using her delicate little white paws (via my computer keyboard).
'esd00000-p9ofvgggggggggggggg;pp+++++' is a rather artistic looking message, much more interesting than my ginger cats Fluff-Fluff and Percy are capable of. Heavier paws, those two...
Aha! The Timely Tulip Rescuer returns, with packs of tulip bulbs left abandoned, half-price, on the shelves. Granted, some are bright cerise, others a garish yellow and red stripe, but I don't care if they shout at me from their pots. If they're too noisy I'll move them. Also I've rescued two Kate Sheppard pink roses, bought some dwarf Sweet Pea seeds suitable for 'tubs or pots' - I'll hold them to that - and more packs of polyanthus plants and primroses.
The First Camellia Flower!
Two Thirds of the Day later...
All my bulbs and my pretty flowering plants have been planted in various pots, and I've just started dumping horse manure onto the Hen House Gardens, before a layer of mulch goes on. The wind is biting, and Non-Gardening Partner is up in the mountains ski-ing, hopefully not getting too cold.
Great news for the makers and partakers of lists - finally I've dealt to an item which keeps popping up on my written lists, and then remains undone and forgotten. I am pleased to announce that the Wedding Cake Viburnum shrub has been shifted out of its position of gloom and doom, and is now happily near the edge of the Stumpy (AKA Willow Tree) Garden, where it can drape its pretty layers over one of the remaining stumps. And where it can be seen and admired, and hopefully photographed in full bridal glory by the adoring Head Gardener (me).
Much Later...
Well done, me. I lit my bonfire, wheeled in barrowfuls of rubbish, and grabbed handfuls of Phormium leaves and scrappy Wattle tree branches. I did a bit of a mid-winter's dance to celebrate yet another glorious outdoors day. And now it's dark, the log-burner is going, the evening meal (roast lamb and vegies) is gurgling, and I'm righteously wearing that apres-gardening jersey. It's been yet another brilliant day, and planting lots of bright and colourful things was fun. Perhaps I should visit the hardware store's gardening section more? Hee hee...
Silly Guy Savoy Roses
Saturday 30th June
So what should I do in the garden today? Firstly I need to take some photographs. Then I need to clean up behind the pond (in winter when there's no flower colour the garden gnomes look so cute - and so very obvious). I'll finish the day with yet another bonfire - no problem . There's always dry mess to burn when one gardens underneath huge Eucalyptus trees. Hmm... It's going to be another nice, normal, dreamy day, with no cold wind to hurry me along.
OK. Mid-Afternoon, pre-bonfire, hot coffee and progress check in. I've trimmed another two Phormium tenaxes. Aargh! Story of my gardening life - how many can there possibly be in my garden?
I've also rescued several pelargoniums (half-hardy) from the winter garden, trimmed them, and put them in the glass-house. I've planted some remaining daffodil bulbs in pots by the cottage. The Viburnum tinus shrubs are budding and flowering - sweet things! Camera? Oops, forgot...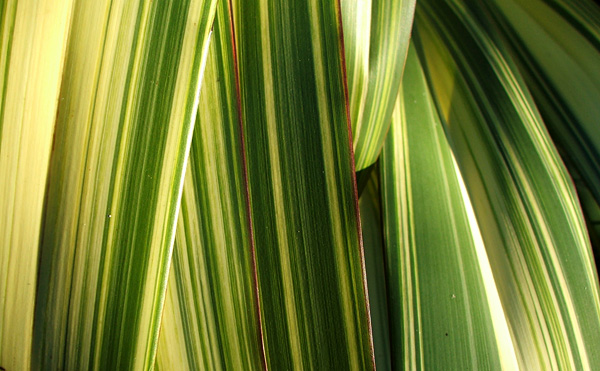 Cream Delight Phormium
Now I'm off to rake the paths behind the cottage, and then clean up the pond area - yet more gum tree branches have fallen down. Then I'll fire up my bonfire. I'm sorry if these details are so repetitive. Oddly I'm not in the least bit bored, since every day a new garden area looks tidier, thus making me very happy. Gardening is a simple life, and I love it.
Crafty memo to self - crochet a cover for my new hot water bottle for Pond Cottage. A zig-zag one, like my bed blanket, would be nice.