Action-Woman?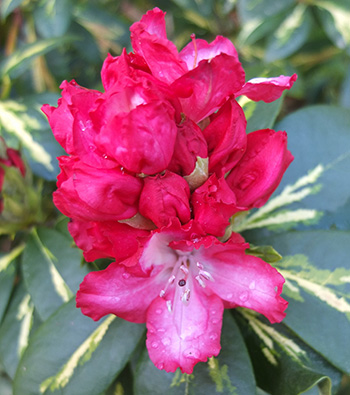 President Roosevelt Rhododendron
Grey skies with cold rain, and hours - no, make that weeks - of conifer clippings to rake up and dispose of. What a pity! Perhaps I will just have to stay warm and cosy inside, drinking coffees and writing lame gardening lists. But will this be satisfying for an action-woman gardener?
Thursday 14th August
Just as I thought. I've arrived home from swimming, and I just don't feel like writing anything that remotely resembles a list. I want to be outside 'doing', but it's only three degrees Celsius out there. Hmm... OK, Action-Woman - how tough am I feeling?
Three Turbulent Gardening Hours Later...
So the rain stopped, and I thought I'd try a spot of rubbish burning to keep warm. Alas, this was not to be my finest bonfiring hour. Firstly I couldn't get things hot enough to efficiently burn the conifer trimmings. Then the wind leapt into action, and the smoke chased me around the fire. Where-ever I went, it flushed me out. Aargh! So I poked and prodded at the fire, water buckets at hand just in case. It took an hour and a half for the bonfire to reduce to something which could be safely left alone. Even now I'd better return to check it. Blast that wind!
Bonfire Smoke
I took some photographs of some brilliant winter colours - citrus yellow Wattle tree flowers, deep pink Camellias, the first Rhododendron, blue sky, and lunging clouds of white smoke. I remembered to shut the cottage window. I explained to Rusty the dog that our day was a bit of a fizzer, really, and we were both going back inside.
Smoke Over the Pond
Oh well. I tried. I'm not keen to double handle the hedge trimmings, but suspect they'll have to be raked into piles and thrown under the hedge to dry off a bit. Just too much smoke.
Friday 15th August
Let me introduce today's version of myself. I am Inaction Woman. Oops. I'm off to have coffee with my friend and mooch around the Charity shops. When I get home I plan to watch TV. So there.
Saturday 16th August
Today Non-Gardening Partner and Action Woman worked all afternoon. AW sorted the bigger hedge branches into piles, scooped up armfuls of the rest and threw them underneath the hedge. NGP raked up the remains and attempted to get bonfire going. He thinks it's puffing out more steam than smoke. The fragrance is amazing, though. Such a clean pine-oil smell (fresher than my bathroom, hee hee). We'll try and finish clearing from the big main hedge tomorrow.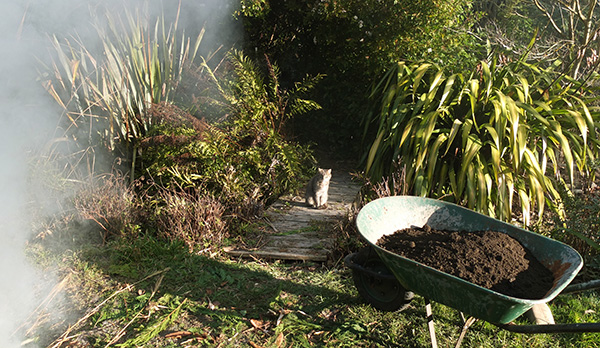 Lilli-Puss Supervising the Bonfire
Sunday 17th August
Humph. Guess what I'm doing all morning? OK. I can do this. And guess what I'm doing all afternoon? OK I can also do this. Hey! It's exactly the same as the morning thing.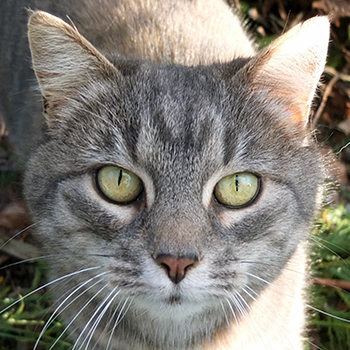 Thankyou Lilli-Puss
Afternoon Tea...
Hmm... I've just made a refreshing cup of hot tea, which I'm going to take outside. I've been burning and raking all day, and it's been going really well. I've cut down the toad lilies and raked up dry mess in the Wattle Woods, and I've trimmed two large Miscanthus zebrinus grasses. The idea is to alternate these with the conifer trimmings on the bonfire. It stops me getting completely ground down with the mindless repetition.
I've replanted the irises and Bergenias that were shifted out the hedge-trimmers way. I'm going to keep the garden borders near the hedge the appropriate size from now on.
Now it's the end of the day, and what a brilliant day it's been. The bonfire is still modestly burning. I've just spent half an hour of down-time (and I mean down and lying on the damp grass time) with Lilli-Puss, who has been supervising the fire.
+10Naturally she's been snacking on some rather delicious meat morsels. Such quality cat-company has to be rewarded. As does my Action-Woman weekend. So I am going to soak in a hot bath, banish NGP to some evening dog-walking, and then watch a historical soap on TV called The White Queen (fast-forwarding through the naughty bits). I've had quite enough action for one weekend, hee hee...