Bouff!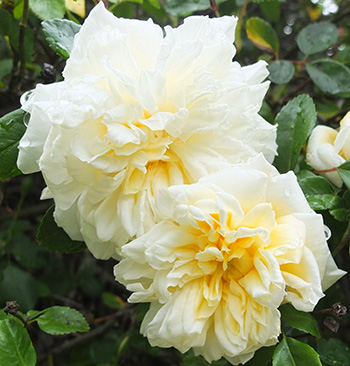 Alberic Barbier
Good morning to my early November garden. What a transformation! You've gone 'bouff', puffed out your beautiful chest, put on your super-flowery fat-suit. Where to begin?
The Roses!
Aha - the roses! Agnes the pale lemon rugosa, Fruhlingsgold, once flowering and so simply single, dark, brooding Othello (with the tiniest spots of rust, oops), the pink stalwart Gerbe rose on the fence, and so many others. That lovely rambler I think is Alberic Barbier is approaching the roof of the woodshed, joining the pink rambler I think is Paul Transon. The pale lemon climber Casino is flowering on top of the pergola. I need a step-ladder to get a picture.
And the rhododendrons! Such a variety of colours, for these mid to late season bloomers. I love them all - the solitary pinks, deep and bright, those with lilac shades, the fruit-salad coloured combo in the Stumpy (AKA Willow Tree) Garden, so luscious...
All this colour would be exhausting to look at without a background of green. Aha! The garden borders, full of texture and colour, provide such. The hostas are showing off their fresh new leaves, the ferns have unfurled. And I love the big green Gunnera (one of my 'eco-naughty' plants).
Oops. I've forgotten to mention the perennials - lupins, aquilegias, cornflowers, have started flowering. Many have self-sown. I am so grateful. Four Allium survivors (they don't do so well in my garden) near the herb spiral are ready to open their buds. And so are all the Peonies. Wow. Nature is so generous.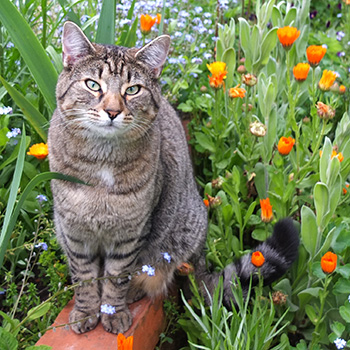 Tiddles the Tabby
Dribbling On...
Such a pity to spoil this effusive moment , but I'm spinning out my morning coffee (I keep reheating it) and letting my typing fingers dribble on. It's the time of my gardening year when I just can't find adjectives of substance. Nothing I write does the garden justice.
Hmm... 'The first roses are looking beautiful' doesn't say nearly enough for the early ramblers, or the cute little hedge of Roseraie de l'Hay, its leaves sparkling green against the rich purple-red flowers. How much do I love rugosa roses? Let me purloin a poem and count the ways...
But there is much to do. Enough. Gasp, sigh, smile. My camera batteries are recharged and I'm off to take photographs of absolutely everything. Better than a thousand words, I think. Especially when it comes to the roses.
Enjoy!