Christmas!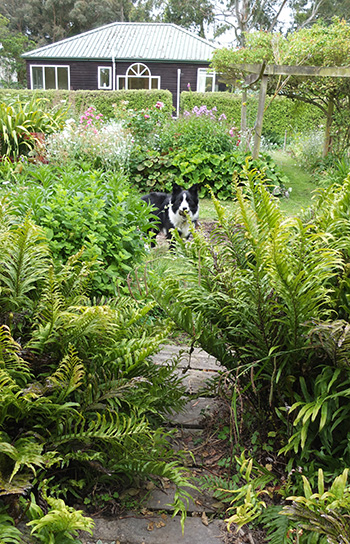 Ferns by the Bridge
Good morning. And I don't mean 'Good Moaning'. This is the new Christmas me, moan-free. I'm back to basics : one oldish woman, two hands, legs that still work, a back that still bends, and two wonderful dogs for company. And a wonderful, vibrant garden, bursting with flowers and foliage, shouting out to be admired. And weeded, oops.
Thursday 22nd December
My moaning may be superficial, but it unnecessarily complicates things. Garden life is out there, and is very simple. Grumping and humphing about visible mess is pointless, in the grand scheme of things.
So here's the plan. I clean up some more of the Banksia rose mess. I water more of the Allotment Garden. I do some more weeding. Yeay for my garden, I say. I will work hard and enjoy myself. I make myself a promise, thus : In my twilight years, when I am reduced (eek!) to daytime TV, I will remember these weed battles with fondness. Ha! And a smile, and maybe even a tear. Of joy.
Much Later...
Sorry about the uber-gush up there! But I feel so much better now, even after only four gentle hours of gardening. And this is a reasonably personal gardening journal, after all. Sometimes it's harder work thinking about what needs doing than actually getting out there and doing it. Hmm... Lesson learnt?
Next Day...
I am still positively inspired - two days in a row. Yeay! But alas, at the moment it is drizzling heavily, and it's cold. So I think I'll stay inside and do some web-gardening. My rose photographs - so many, so beautiful! Drool, drool. Teasing Georgia - you are behaving this year! Well done, girl.
Rambler in Willow Tree Garden
And hello to my ill-placed scramblers - May Queen? Seagull? What are your names again? Oh dear... Please don't damage your host trees, like that naughty Banksia did...
And Then, The Night Before Christmas...
Aha! Non-Gardening Partner has mowed all the lawns. Another trailer load of Banksia rose (grr...) has gone to the dump. I've watered the tomatoes in their patio pots. It's been a busy week - lots of raucous Carol singing, high-jinx (and high-kicks) at the dog park with my pack friends, swimming in the mornings... I've even read my first summer afternoon detective book. It's been a time of reflection, too, with a funeral mellowing the festive mood. Winnie the dog has been my special friend - licking my face whenever she thought I looked sad, then instantly switching to her demanding bark : Throw the ball! Throw the ball! Life is black and white for my young black and white dog.
Merry Christmas
I know, I know. There are always more weeds to pull out. More Banksia rose to deconstruct, more firewood to stack, another tennis ball dropped at my feet to throw high over the Olearia hedge, hopefully clearing the Herb Spiral garden. There are always more roses to pick, photograph, and/or dead-head.
And if I get bored with dog and garden life over the Christmas break, even for a minute, Bach wrote 48 Preludes and Fugues which I can solemnly sightread my way through. OK, Winnie. I can Bach, just like you! Merry Christmas!