Visitors!
The mid-summer garden visitors (flowers, I mean) are slowly packing up their things and moving on out. This morning I said goodbye, wistfully, to the miniature Agapanthus flowers which ring Pond Cottage's wee garden and the nearby path around the pond. Well done, my pretty blues.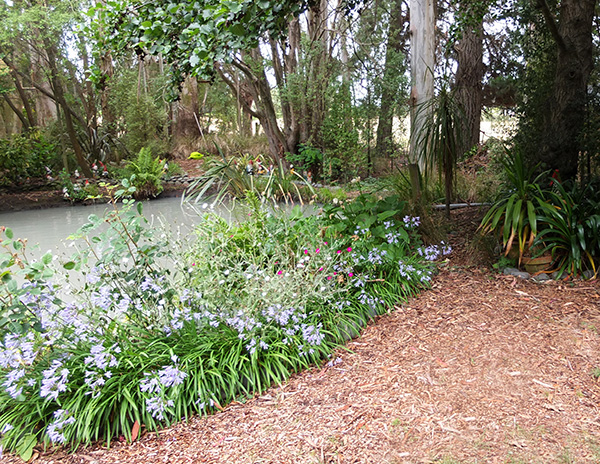 Agapanthus by the Pond
Flowers from other species Agapanthus around the garden are starting to scruff up. And the Shasta daisies - depending on their location, some already need trimming, others are flopping, and only a few still look pristine white. Goodbye to the Echinacea along the back lawn's edge with the water race - the bees will miss you! And the unsubtle nearby Knifophia clump. I suppose I could trim it right down - such a boorish country plant, this. It will be like cleaning up after a sloppy teenager. Then, whenever I find myself in a nit-picking mood, I must remember to dead-head the dahlias. Oh yes, my head is buzzing with things to do.
White Species Agapanthus
Bridal Visitors!
OK. I've already been for a walk with the dogs and the edge trimmer. Someone is coming to look at the garden in the next week, thinking it might be suitable for holding their outdoor wedding. Oh yeah? This is a bit tedious for mid-summer, with the general scruff, the gum tree leaves everywhere, the lawns looking tired, likewise the roses. These visitors might not have the imagination to visualise my garden's spring transformation.
Well, I don't care! But it will provide me with the impetus (groovy word) to actually do trim the edges (and the remaining Lychnis) around the back lawn. Also I need to pull out and cut up the Queen Anne's Lace for mulch. I've loved this tall annual ever since my friend gave me six wee plants (just six!) - and it is welcome to self seed wherever it so chooses. There - I've said it! Words that may well come back to haunt me...
Much Later...
I worked so hard, and then I got some Euphorbia sap in my eye, and that was that. Extremely annoying, nose running, eye sore - I sulked for a couple of hours, took an antihistamine, flushing my eye over and over again. Then I stopped sulking and went for a swim (the perfect antidote). Everything is settled now. I've always known that Euphorbias are 'dangerous', but I was just throwing the cut stems around with no regard for personal safety. Humph.
Koru and Ferns
When we came home from swimming I wandered out to take some photographs of the Dog-Path Garden. Last spring I thought it was a good idea to plant a ring of Agapanthus around the brick Koru courtyard. I thought they might still be flowering. Shall I list the issues I found therein?
Weeds.
Invasive Euphorbia scuttling around everywhere.
Brick path a mess of dirt and leaves.
Brick courtyard covered in moss.
Agapanthus flowers blown over by the wind.
OK, so the photographs didn't exactly work. Guess what my gardening task is for tomorrow?
The Koru Courtyard and Path
But just wait a minute. Do I just leave the chaos, suggest to my bridal visitors that this would be the ideal spiritual spot for their ceremony? And giggle when they decide to look elsewhere? A devious bridal hostess, hee hee...
Monday 19th February
I've spent all afternoon scraping and cleaning the brick courtyard. It was a calm, reflective afternoon's work - remembering the spiritual significance of the bricks (they fell down in the 2012 earthquake, and it's almost the sixth anniversary). Quietly giving thanks, enjoying the spiral shape. I also enjoy the imperfections (as one need must do, when one has laid the jolly bricks oneself without using a spirit level, hee hee).
I did some localised weeding - new topsoil added to the garden has dutifully produced a bumper crop of clover and fat-hen. But the courtyard, indeed the Koru, is the feature of the Dog-Path Garden, and I love it. Even if the sorrel weeds are still in evidence (so difficult to eradicate) and the Lychnis needs trimming and that invasive little Euphorbia is creeping ever outwards.
Tuesday 20th February
This afternoon is not so good. Tiddles the tabby - with too many toes - has been missing now for almost 24 hours. Where can she be? Is she in trouble? I've wandered around the property calling her. There's an awful feeling of blankness in the paddocks - as if she's just not out there.
Tiddles the Tabby - her last Photograph
But rather than mope I've done an hour's weeding in the Dog-Path Garden, and pretty soon I'll take the dogs out for another wander. And I'm thinking - this cat would never have been happy shut inside. But what has happened to her? The property is so large, she doesn't need to go far away to do her hunting. Not good. Sorry about this sadness. I can't find her.
Thursday 22nd February
A day to remember the big nasty earthquake. And to continue my search (so sad) for Tiddles the tabby, who is now awfully, seriously missing. But on a positive note, the wedding 'visitors' are not coming to look at the garden. Phew! They were planning for about 120 guests - the ceremony, photographs, and the reception, all to be held here. Crikey! And how many portable toilets would have been needed? Such a relief. Was going to say no anyway.