Tiny hints...
An Autumn Leaf!
I do like March - it is generously 'dayed', and the garden is giving out the tiniest hints of autumn. The variegated dogwoods are the most subtle, blushing with the lightest flushes of pink and red. Ooh goodie! I think I'm looking forward to autumn.
But I also love summer. As I love every season, every month, week - pretty much every day in the garden. More bonfiring is the order of this afternoon, and I have the trailer to fill with dry rubbish from the fence-line. I can't day that I love bonfiring, however. It is a necessary garden 'evil' on my property.
Much Later...
Aargh! The trailer-load is collected and burnt, plus two wheel-barrowfuls from behind the pond. The face is hot pink, and the gardening mind is numb. Mind you, it is the end of the day. Sadly, I can't remember any magical, sentimental childhood bonfires - where the potatoes thrown in were cooked superbly, the songs sung around the flickering flames were wonderfully all-embracing. Tiredness and stinkiness are my bonfire memories.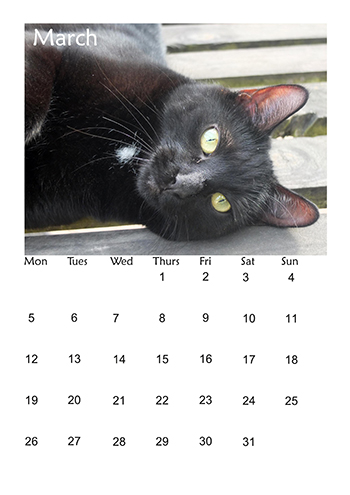 Buster the Cat - Miss March!
Sunday 4th March
In a large one-woman country garden one can't just float around smiling at the trees, smelling the roses, saying hello to the bees and butterflies - all those lovely things one likes to be doing. No, one has to do stinky, smelly, eco-suspect things like combustible garden maintenance. Humph. I'll say no more.
Monday 5th March
And sometimes, the next day, one has to do the same. As well as clearing mess out of the Wattle Woods by one fence-line, and burning it, I've also filled the trailer with mess from the opposite one. All ready for tomorrow. Yuk!
Today has been a little worrisome, because Minimus the cottage cat has been unwell. Early this afternoon I decided she should go to the vet, just to be sure. Oops. Her temperature was 40.6, so she was 'admitted', and put on a drip and antibiotics. She's been sluggish, off her food, for nearly three days now.
Tuesday 6th March
Phew. Twenty four hours later - what an improvement! Minimus has just come back home. I was so worried. I love my little (well, maybe not so little) Min cat. And now it's Winnie's turn to visit the vet - a minor nuisance for me (ahem - cleaning out her kennel too many times) means she may have caught something semi-serious (for example, Campylobacter?) from eating something disgusting.
Bonfire Accessories
Apart from patronising the new local vet, I've been burning, again. This morning, in the lightest of drizzle, the trailer load collected yesterday went up in mainly flames. I also cleared by the Pump House, and wheeled these loads over to add to the fire. Now it's drippily raining, which is timely. The mess is burnt, the ash heap will get thoroughly wet, and then I can remove it and start all over again. Aargh!
A patch of garden near my bonfire houses some of my loveliest roses, including my newer David Austins. They've all decided to rebloom, and are oh so, oh so, oh so beautiful. It's the sweet and sour of gardening.