Is it finished yet?
In Front of the Hump
Challenging the gardening reality that nothing can ever be finished when the garden is big and there's just one of you - I'm back in the Hump, trying hard to finish the clean up. Ah - that tantalising word 'finished'. Can the garden ever be? Aha! When that mythical hot place freezes over? When it snows in mid-summer? OK. I'll give it a go.
So today I worked hard in the Hump raking up gum tree mess, filling the trailer. Again. Had a forced break mid-afternoon - young Pebbles was missing. Pebbles, my nervous dog, the dog who plods beside me, the dog who stays close by. Ha ha. Spent an anxious forty minutes checking the whole of my property and the road, calling and calling. Then Winnie and I got in the car to drive further afield.
And guess who I found trotting along the grass verge swinging a rabbit carcass in her mouth? I was sooooooooo cross. Road speed 100 km per hour. I had no idea she would have the dog-nerve to do this.
The Dogs
So it's house and garden arrest for both dogs until the weekend. Both dogs have now had to be escorted in from the road side. Two naughty dogs. I'll have to put chicken netting along the wee front fence, and keep the gate permanently shut. Hard to stop a country dog intent on cruising, but collies don't usually jump over fences. Well, they jolly well shouldn't.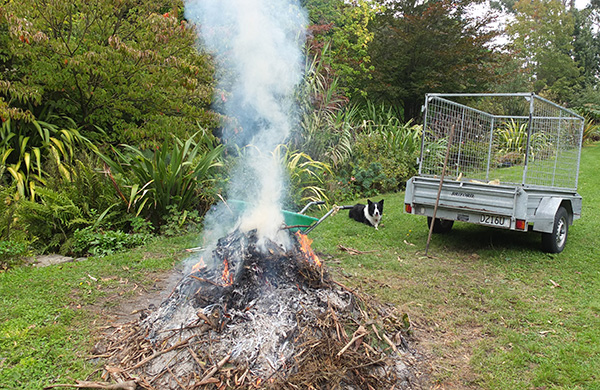 My Bonfire
Today I'm burning and clearing more rubbish. I'm about half way along the humpy area, and ready to cut down dead pine and gum tree branches with the saw. I have a few longer term ideas - maybe make a wee terrace below the main path, and see if I can get some Lamium established on this side of the pines. Absolutely no other paths, though.
Later...
I have been soooooooo good. But doing THE most boring stuff - carting rubbish to the bonfire and burning it. As well as the trailer load I've collected ten barrow loads from the boundary fence-line and burnt it all. Photographs? Aargh! I need to cheer myself up, visually, so allow me to present a row of colourful 'Flowering Now's.
Finally, a couple of PC items from the 'Old Lady Hasn't Got Enough To Think About' book of thoughtful retirement. Spent ages dithering - should I wear an old retro fur stole with my black lace dress to the Spooky Men's Chorale concert? Is old-school fur a complete no-no? Answer : no-no-nobody noticed.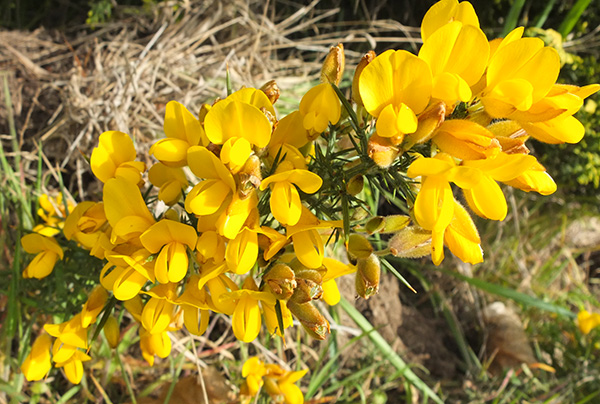 Gorse Flowering
And just this morning. Gorse (Ulex something or other) is an nasty environmental pest plant in New Zealand. My latest jigsaw, 2000 pieces, is a Scottish Castle scene, with acres of bilious yellow gorse flowering in the foreground. Should I be spending my resting in-house time putting pieces of gorse together? Hmm. No Way!
How about finishing something?
I would be better off thinking about vacuuming the house for Easter guests. And finishing something in my garden!