Welcome to Early Autumn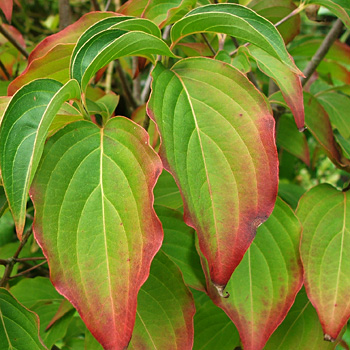 Cornus Changing Colour
Gardening calendars throughout the world differ as to the actual start of each season. In New Zealand, March 1st is popularly labelled the first day of Autumn. Eek! That seems really far too early to me.
Apart from planetary considerations (like the equinox, which seems the best natural date), I've got my own personal autumn indicators. An extra duvet goes on the bed in Pond Cottage, I pull out my winter frog pyjamas - hopefully they will still fit. Merino base layers come to the top of the clothes heap, and the gardening shorts are stashed away for another year.
Garden-wise I take notice (and photographs) of the Hydrangea quercus, which will be turning a subtle pink colour. In the Wattle Woods fallen seed pods carpet the paths and borders. The garden bonfire becomes a more pleasant experience, particularly in the cool, late afternoons.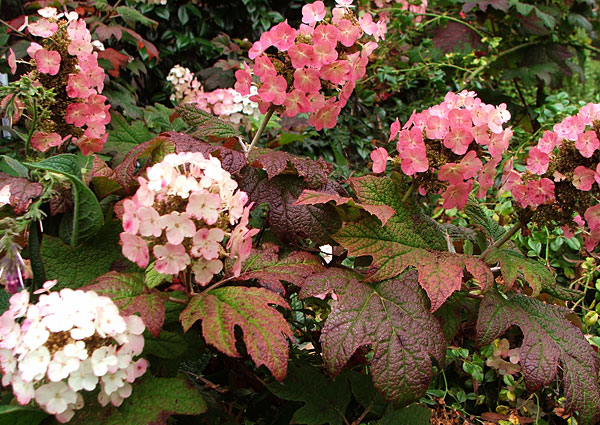 Oak-Leaf Hydrangea
To set a definitive start to autumn in my garden I've thought of waiting until the first leaf starts to blush bright red. But no - that would have brought autumn into my garden many weeks ago, when a dear Bergenia (Bressingham's Ruby) first reacted to the cooler evenings and mornings. One beautiful leaf - just one - turned very early.
Red Bergenia Leaf
The other day (still far too early) I found another autumn tearaway - a new Cornus tree planted in the Dog-Path Garden, tipping its green leaves with little red borders. Sneaky thing!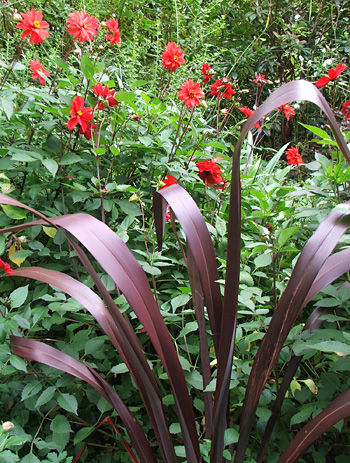 Autumn Dahilas
Perennials
As for perennials in autumn - alas this year the Sedums (variety Autumn Joy, hee hee) are disgracefully mildew-covered, better avoided in this state. Aha! The dahlias seem to suddenly have more dead-heads than flower-heads, and the beautiful climbing rose Crepuscule is definitely enjoying its second flowering flush. Though 'late summer' seems a kinder seasonal setting for this stunning rose. Clumps of yellow perennial daisies (which I associate with autumn proper) have yet to flower properly.
Early Autumn, I Think...
Tell you what, though - there's a definite yellowness to the deciduous Elm trees, and I've noticed some discrete leaf-fluttering. I'm reminded of the jazz standard called 'Early Autumn', which has a leisurely sequence of falling melodic phrases. Even the harmonies flutter downwards in pitch, like slow leaves drifting off a tree.
So Early Autumn it is, then! But I'll be waiting until the 21st (or the 22nd) before conducting the official Moosey Welcome.