Spring 2018
In early spring my slowly greening garden is filled with discrete, delightful splashes of colour, everything co-operating rather than competing. Nothing outperforms its neighbour, there's no shouting, or bullying. Modest plum trees blossom above floppy white snowflakes.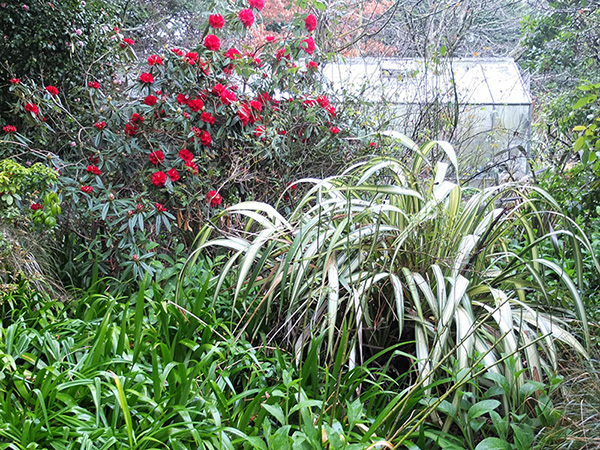 Early Red Rhododendron
A distant red rhododendron takes itself very seriously but isn't overpowering. From the fluff of the pink Camellias to the early yellow sunshine shrubs (Genista and Forsythia) there seems to be colour harmony.
My daffodils are very patchy, flower-wise, so you'll find plenty of solitary yellow trumpets, flowering alone - no friends! Sometimes I cheat and prop up the Hellebores - please look at the camera, you sillies! I reach rudely into the early blossom trees, arms at impossible angles, trying not to break anything. Blossom detail is beautiful and oh so subtle.
Each year the same Camellias get fatter and taller, and I take lots of photographs, hoping that their petals won't have too many brown spots.
Spring blues...
The first spring blues are tricky - their colour washes out in the sun and looks dull when it's overcast. Getting the blue Rosemary or Forget-Me-Not flowers in focus is not easy. But I try.
Here are some of the photographs of my 2018 Early Spring Collection. They look exactly like last year's. Time to buy in some new Camellias, mass plant split corona daffodils, splash out on some expensive little designer snowdrops? How about some new rhododendrons with fancy names? Or some luscious wine red double Hellebores? Oops.