Moosey's Spring Stars for 2009
Blue Ajuga Flowering
Nurseries use the phrase 'Stars of Spring' to introduce brand new, exciting plant arrivals to their shelves and benches. I've got some spring stars in the Moosey garden to share, though they're not exactly at the cutting edge...
Quiet Achiever
Ajuga is a ground cover - a pleasant, quiet achiever foliage-wise, but those few weeks when the blue flowers appear are quite magical.
Ajuga is a generous multiplier, too, and not so tenacious that a gardener would ever regret having planted it. And to think that I was given just one little pot all those years ago...
I also bought three tiny pots of the purple-leafed variety from a mail-order nursery. And after just a few years this patch of Ajuga became incredibly well-established. It has the same blue flowers in spring.
Apricot Wallflower
Basic but Beautiful
Wallflowers are basic but beautiful spring-flowering perennials, I do grow several different varieties in several different locations in my garden. I know that lots of gardeners discovered the apricot coloured variety years ago. But it's new for me.
I rescued this wallflower from a nursery closing down sale, and paid fifty cents for it. It wasn't in very good condition - pot-bound and scruffy, I didn't know whether it would survive. So it was quickly planted in soil fortified with potting mix - and then totally forgotten about.
Ha! Almost unnoticed until this month, the Wallflower put on fresh spring growth, and its flowerheads opened. What a beautiful colour - a star is born!
I'll definitely be taking some cuttings - oops, maybe I should have done that already! This colour is so scrumptious, and I fancy seeing much more of it. Next spring, hopefully!
Pale Blue Iris
Subtle Style
A quiet word of thanks to my small irises, which I swapped for some huge Gunnera plants. The transaction may have been a mismatch size-wise, but I'm thrilled with the results!
They grow in a row along the grass edge of the Birthday Rose Garden. Dwarf irises need to be easily seen when flowering - later in the season they're happily hidden by other plants.
OK - they're annoying to keep weed-free, and give only one or two weeks of shy splendour flower-wise. But dwarf irises are subtle plants, and I'm honoured to have them in my spring garden.
Blue is my favourite personal colour, and these irises match the colour of my eyes - that's nice! There's another good thing about them - pale blue dwarf irises are worth quite a few style points in the local Garden Club! Hee hee...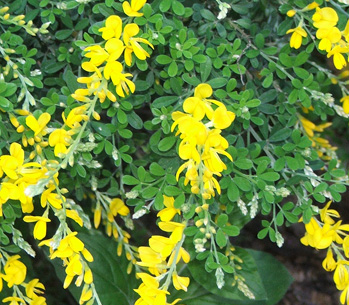 Genista
Spring Brights
Genistas are my new spring brights. Two Genista shrubs were sitting on the sale table, forlornly pot-bound, and I paid two dollars for the pair. I planted them together in the toughest area of the garden - if they lived, well and good. If they didn't, I wouldn't worry.
Their garden at the back of the Shrubbery is untouched either by the irrigation system or my bucket of water. No problem! Both shrubs are flowering beautifully this spring. And sensible me! I've placed them near one of the many Shrubbery paths, so their cheerful flowers are well visible.
And apart from the bright yellow flowers in spring Genistas give beautiful green foliage all year round. At just one dollar each I have certainly been well rewarded. It's nice to rescue unwanted plants and have such a success.
New Camellia
Free Dig
This mature Camellia was free - as long as I was prepared to dig it out of its old garden. Naturally I sent Non-Gardening Partner (who did have to resort to using the pick-axe) to do the digging.
The Camellia arrived at Mooseys in the back of the trailer. Its roots were covered with a tarpaulin - it was huge!
My new shrub went straight into a large planting hole (dug by me) in the Wattle Woods. I'd found the perfect spot - at the end of a curving line of other mature Camellias.
The previous owner had no clue as to the Camellia's name. Its flowers are on the small side, and the edges of the petals are tinged with pale pink.
I'm remembering to water it carefully, just in case, but I don't think it's really noticed the move. In fact, my new Camellia is positively blooming with health. Welcome to Mooseys...
Rhododendron Teal
Colour Clash
I must have planted a couple of new rhododendrons called 'Teal' - tiny shrubs with miniature leaves - in the Driveway Garden. I know it was me (I am the only gardener here). But I don't remember, and I haven't recorded anything about the rhododendrons in my gardening journal.
And for the first time in ages I've actually left the labels on the shrubs. Good thinking, Moosey, even if your memory is faulty...
The flower colour of this rhododendron, a citrus yellow, is unusual. It's superb, in fact, and clashes superbly with some of the softer late flowering daffodils. This is Teal's first spring for blooming.
The Driveway Garden is mulched, with no self-sown seedlings as yet. Memo to self - take notice of the colour wheel and plant masses of purple pansies around the rhododendron Teal next year. Yellow and purple together may be boring and ho-hum, but they always work...