New Garden Birdlife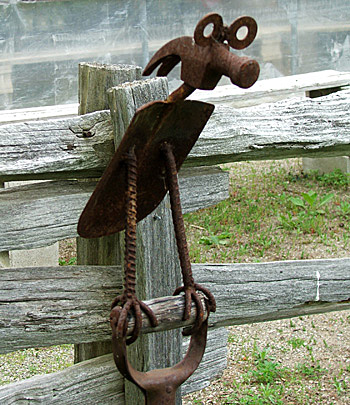 A Hammerbird
New gardens in a new gardening country - new birdlife! I'm on holiday away from home, though some of these birds I've met before - hello, sparrows! Starlings - stop squabbling over the suet in that bird feeder! Crows - stop crowing!
North American Birds
During my holiday in North-eastern America I've met lots of new birds - cardinals, blue jays, catbirds, cowbirds... I've heard for the first time a mockingbird calling, and watched a tiny hummingbird hover by the nectar feeder. None of these birds can be found back home in a New Zealand garden.
I've particularly enjoyed meeting the birdlife in a perennials garden and nursery in Southern Ontario. A group of rather eclectic avian originals have made a comfortable garden home for themselves amidst the greenery.
Birds Pose For Camera!
First I saw a hammerbird, at rest on the top of a garden spade. Hammerbirds are very confident birds, and like to perch near a garden path so they can watch visitors walk by. Personally I think they quite enjoy posing for the camera!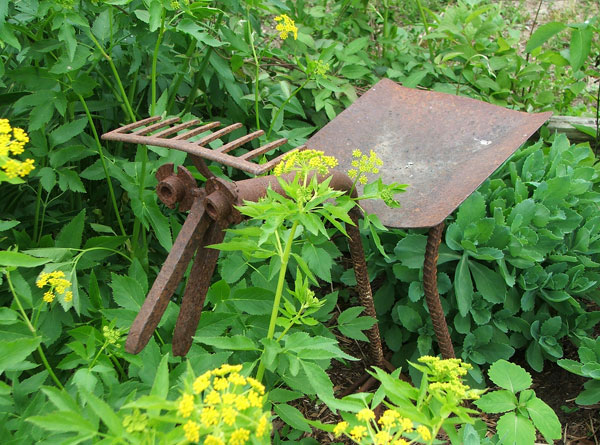 A Rakebird
Further along a rakebird was scuffling amongst the Euphorbias in the perennial border. I wonder - was he looking for scraps?
A Shy Bird
The rakebird is a little shy - he's happiest low to the ground where he can feel the garden foliage on his feathers. And occasionally he'll hide, if a visitor flaps their arms about too much, or is too noisy. Not me - I have a serene garden-visiting glide...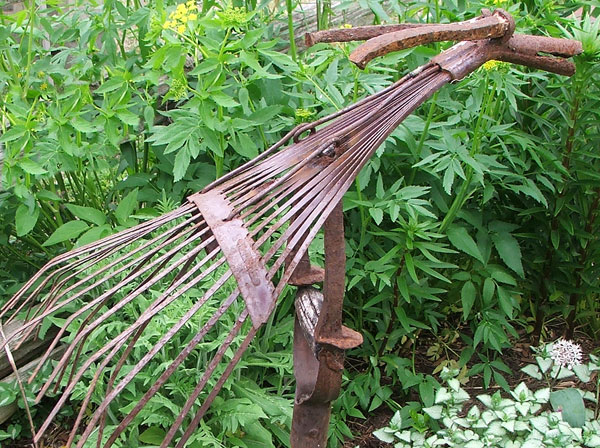 A Sweeperbird
Nearby a sweeperbird, unconcerned by my presence, was stretching out his wings in the early summer sun. Sweeperbirds have a long, lean silhouette, and are sometimes mistaken for an old broom - hence their name. They surely need a lot of space for those tail feathers!
A Comical Bird
My favourite was the shovelbird. I saw this squat, comical looking bird poking around in the rockery, looking for grubs in the sedums. Shovelbirds have over-large eyes, which gives them a goofy, cartoon-like appearance. But hey! They have really keen eyesight...
A Shovelbird
I know, I know - they're just a collection of bird sculptures, created from old garden tools and thrown-away pieces of metal. A rustic flock of rusty birds with garden shovels for bodies, hammers for heads, rakes for feathers, reinforcing steel for legs and feet, old bolts for eyes...
Delightful
But aren't they a delightful lot? I'll try and find out the creator's name, so he or she can get the credit deserved. I think these birds are brilliant! You can see hammerbirds, rakebirds, sweeperbirds and shovelbirds at Canning Perennials, near Hamilton, Ontario, Canada. And you can buy some really high quality perennials here, too...