Big Bearded Iris Competition
A Big Bearded Iris Competition - what a good idea! The pastels versus the deeply smouldering shades - this will be a battle of light against dark in the late spring garden. Irises inevitably pose semi-formally for the camera, like graduating school-girls, all lined up wearing different coloured prom dresses - this one a midnight blue velvet, that one a pale apricot organza.
Irises by the Herb Spiral
So how to choose the winner? The best beard? Hardly the most romantic of criteria! And it has to involve more than choosing my favourite colour - otherwise the blue irises would win every time.
Sunny irises and Aquilegias
So after much thought I've chosen four different areas for judging, where points from 1 (hopeless) to 5 (brilliant) will be awarded. The judging criteria are as follows:
Judging Criteria : Emotional Appeal, Generosity of Flower, Non-Floppy Factor, and Impact.
Emotional Appeal will almost certainly be based on personal colour memories. For example, did the Head Gardener really have a beloved ballet tutu this colour when she was five years old? Can she even remember this far back? Generosity of Flower needs no explanation. And obviously irises who flop over at the first puff of wind or pelt of late spring rain are at a disadvantage. Finally, the general impact must be judged when the gardener is just wandering by - she cannot be specifically going to look at the irises. Impact also takes account of neighbouring plants in the border. Put another way, the iris must speak to the gardener...
May the Best Iris Win!
Right. It's easy. May the best iris win! Here are the five contestants :

The Iris Contestants
And here are the judges scores. Well, actually there is only one judge, oops....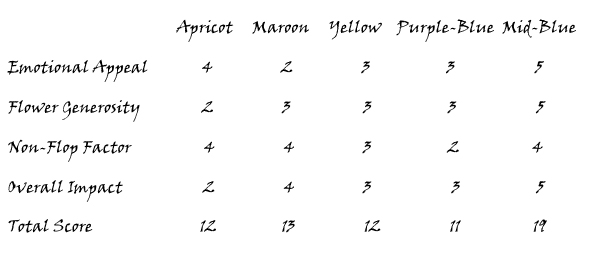 The Scoring
And the winner is - Mid-Blue, with 19 out of a possible 20! No bias here, even if it is the same colour as my favourite summer gardening shirt. My favourite colour, full stop! And I did always want a mid-blue ballet tutu... Well, well, well... What a surprise!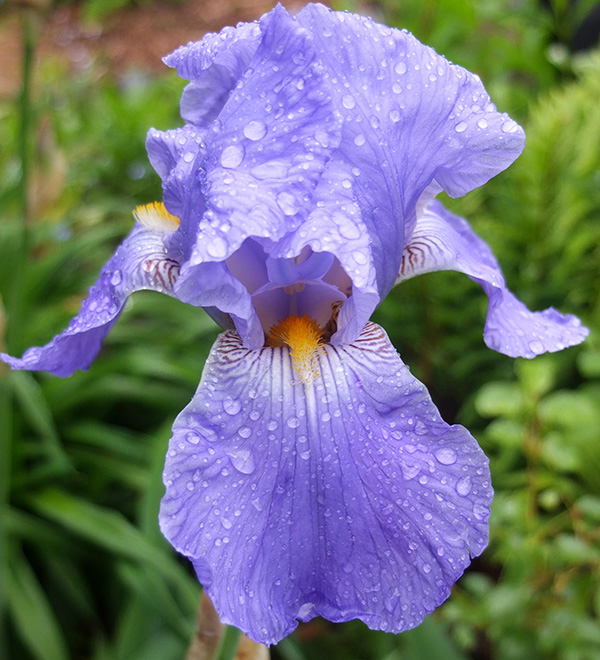 The Winner! Mid-Blue Iris Beauty
My biggest patch of mid-blue irises is in a very visible corner of the Birthday Rose Garden, surrounded by fluffy pink and white peonies and lemon roses. Simply beautiful!