New Year's Resolution 2020
I have created the best New Year's resolution ever! In 2020 I will get Non-Gardening Partner more actively involved in helping me in the garden. Think of it as a prelude to his retirement from work, if you like. No longer will I be vague and undemanding. He will not escape so easily in 2020!
A diesel-filled year
In addition to doing pumps, irrigation, lawns, and fences he will deliver mulch to designated areas, chain-saw things down without moaning, keep long messy grass trimmed, and trim all hedges and over-sized shrubs, including the big orchard roses. This man has a tractor, a ride-on lawn mower, three chain-saws, a shredder, and a brush cutter. 2020 will be the year for him to get lots of use out of these things. It will be a diesel-filled year.
Tractor by the Hump Garden
Whenever Non-Gardening Partner is on holiday, or home at a loose end, I will practice organising him to to mow this and chop down that. OK, he doesn't do digging. But already he's fixed an irrigation pipe that I dug through, planting Rock Lilies in the Pond Paddock. I thought it was a tree root...
So far so good...
So far this year, so good. The lawns have been mowed. The tractor has moved mulch around. And no moaning from him about the need for irrigation. It's running every second night, to combat the hot dry norwest winds which suck moisture out of the ground. And to help out all the plants I foolishly shift around in mid-summer.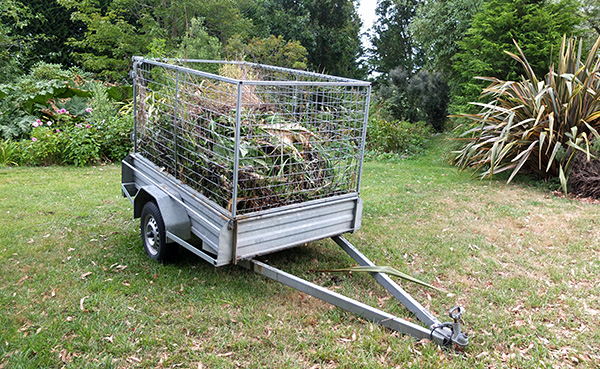 Trailer of Mess -
NGP is good at backing trailers. So rather than trundle around with my wheelbarrow full of mess, I can ask that the trailer is appropriately sited, fill it, then get him to dump it. Thus I can work more efficiently. Perfect. And if he fancies an outing in the car, I can get him to drive me to plant nurseries (I might forget to take my wallet). Phew! 2020 is sorted. No need to hire in an under-gardener or initiate a family gardening working bee. I'm onto it!