Flower Show Photography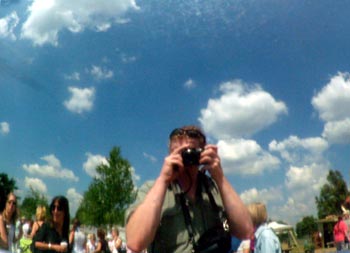 Garden Paparazzi
What better combination than Hampton Court Flower Show and a digital camera? There are so many beautiful things to see - many of the plants simply demanded to be photographed! We left the show with TWO THOUSAND high resolution photos, lots of video footage, and a headache from squinting through a view-finder all day.
The RHS had decided that the Hampton schedule would not include a separate press day, unlike Chelsea. One press photographer I spoke to suggested that this would ensure the photos demonstrated the popularity of the event, as they would include the hustle and bustle of crowds. From the crowd perspective though, I found the press presence rather intrusive - they had a tendency to loiter in the gardens, spoiling the over-all effect for the viewer. It begs the question: which is more important, the enjoyment or the reporting of the event?
The bonus of having the press there was having the celebrity gardening subjects of the cameras there too. We had a close encounter with Diarmuid 'sex-in-wellies' Gavin, the BBC gardening expert who is famous not only for his garden designs and knowledge, but also his popularity with the lady gardeners.
Digital Photography-Aganza
To ensure we had no boundaries on our photo-taking, we also took a laptop around the show and emptied our digital gardening cameras periodically. Even a 512mb memory card just isn't large enough to photograph an event like the Hampton Court Flower Show!
A super-macro, super-organised combination
The super-macro function on our camera gives an image of the plant that the naked eye alone cannot - like seeing the plant through a magnifying glass. Some of the plants and flowers had incredible features this close up.
We have used a gallery format in our write-ups of the flower show to enable us to include as many of the pictures as possible, rather than reducing their size and number to fit into articles. The gallery pictures take a little longer to download than normal pages, but hopefully the quality of the image is worth your wait!
Name that Plant
Most of the plants in the four floral marquees are named and so we took reference photos of the plant labels, names and descriptions. These reference photos proved far more useful than the written notes we took at Chelsea, and should allow us to give the full name for most of the plants we photographed. Helpful for us amateur garden photographers, with our limited repertoire of plant knowledge...