The Great Hampton Court Flower Sale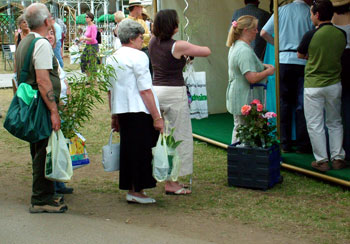 Queueing for the Plant Creche
The Hampton Court Flower Show is much more of a Flower Sale than Chelsea was - a huge commercial enterprise in which most exhibitors had plants for sale throughout the show.
Most of the plants for sale were in great condition and were reasonably priced. This was evidenced by the amount of people wandering around with plants in bags, wheelbarrows and on wheelchairs. Natwest Bank had a small mobile bank on site.
The Hampton Court Flower Show is definitely an event that gardeners like Moosey should take a set amount of money to and leave all credit and bank cards at home. Many of the gardeners in the cash machine queue were already overloaded with plants.
A Gardener considers cannas while her plant porter looks on
Sunday Sell Off
At 4:30pm on Sunday the 'sell-off' starts, with many of the display plants put up for sale. If you want to return to the sell-off, you'll need a receipt or an RHS membership card - though I'm told those requirements aren't strictly enforced.
Plant Porters & the Plant Creche
While many of the lady English gardeners we saw used their husbands as plant porters, the RHS provided a plant porterage service and a plant creche to drop off plants.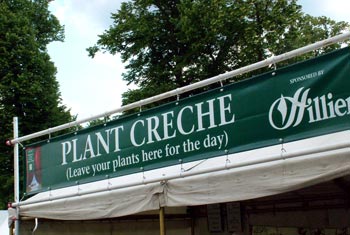 Plant Creche
A plant creche is a great idea for an event the size of Hampton Court, saving the gardener from having to lug their plants all over the show. The creche allows the gardener to off-load their new nasturtiums then relax with a cup of tea and a sandwich.
I suspect many gardeners used the plant creche facility more than once before heading for a car park with a trail of plant porters ducklings behind them.
Good Gardening Advice
Some of the stands at the show were devoted to providing garden and plant advisory and information services. A number of societies had stands and the RHS ran a gardening advice desk.
The concentration of knowledgeable horticulturalists and specialised growers gives large RHS events like Hampton the edge over most garden centres. We over-heard a lot of good grower-to-gardener advice throughout the show.