Welcome to Henworld
Not a Real Hen...
Good (and serious) gardeners are allowed a few quirky things in the garden, to bring a few giggles. Henworld is my personal quirky garden space - a circular garden designed as a 'playground' for my hens.
A Giggly Idea
I laid out bricks in the shape of a big letter 'H', with brick towers for hen statues. Wooden perches ran between the towers. In the garden compartments of the big 'H' I planted hebes, patches of silver beet and other hen-pecking delights. A living playground for my hens - well, that was the general giggly idea.
Alas - the fatal flaw. Hens don't play. Hey - I guess I knew that! But just sometimes, having an excuse to be silly makes the silliness so much more enjoyable.
Poultry Paradise
Henworld is right next to my proper Hen House and chicken run. A miniature piece of theme-park paradise for the Moosey poultry - except they're not allowed in, because rooster is too pecky, the grey striped hens too scratchy, and the black hens poop all over the paths. Sad reality.
Henworld
Several years after I constructed Henworld, sadly I lost my real hens and rooster. In 2010 the local earthquake damaged several of the unreal ones. Slowly, slowly I'm gathering up replacements. Unreal ones, that is - like these two below.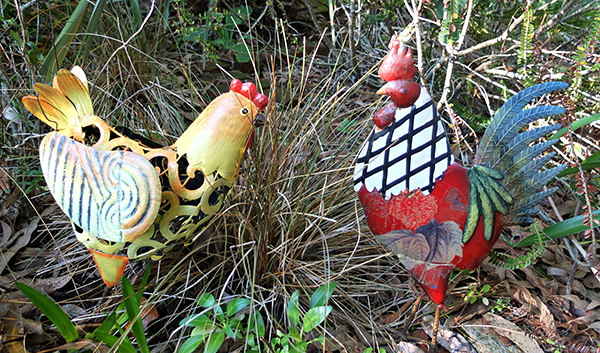 Hello Hen!
Meanwhile the Hebes and Phormiums have bulked out, and I've added lots of Agapanthus and some green leafed Astelias. It's hard to see any of the bricks these days! Or the hens...