Old Fashioned Rose Garden
In 2009 I became the proud owner of twenty-six old-fashioned roses. Some were species varieties, and I planted all of them together. It was a great excuse to finally expand my garden into the Ram Paddock.
Old Rose Garden - from the Ram Paddock
In order to provide suitable accommodation, The Shrubbery (a newish garden) had to be enlarged. Hee hee. So I just dug into a smallish piece of paddock over the sheep-wire fence. Now I was gardening in the Ram Paddock, occasionally occupied by our merino ram.
Old-Fashioned Red Rose
Such high hopes...
All the new old roses were duly planted, composted and mulched. Initially I had such high hopes - and some wonderful surprises. Some species shrubs flowered quite late in summer, and every new rose bush looked healthy and happy. I left labels on the roses that came named.
The gardener-owner I bought them off had changed her plans, and all the roses had been sitting in their planting bags for quite a while. Several had no labels - I thought I could find their names in the Tasman Bay rose nursery catalogue. Hmm... Easier said than done. Why, oh why didn't I write a proper list?
According to my journal, the Gallicas and the Bourbons all went in together - good to know, but foolishly I didn't write down their names. The Rugosas took up spots in the existing Shrubbery (whose shrubs were at this stage very modest in size).
The rambling roses were allocated to sturdy trees in other parts of the garden. Naturally I expected great things high up in the branches from them.
Rugosa Rose Fimbriata
Many gardening years later...
Alas, creating an old-fashioned rose garden (and boasting about it) was not my finest gardening moment. The location didn't get enough sun, and the soil was poor and dry. Lack of watering, too, was an issue. Some of the roses (like Canary Bird) gave up quickly, while others (Omar Khayyam, for one) were decimated by nibbling sheep and simply faded away.
The rugosas (Vanguard and Sarah Van Fleet) struggled amongst the shrubs, and I actually ended up throwing them both out, because of rust. Oops. I think Fimbriata is still in there - help! Must check.
Thriving on neglect?
I wasn't vigilant enough in those early years, lulled by the stories of old-fashioned roses thriving on neglect in church cemeteries. As the years passed I remembered to rescue and replant some...
I did find some labels, and managed to decipher the faded print on a few. That's how I know that Rosa Woodsii Fenderlii loves being in the new Hump Garden, and has become incredibly bulky.
Best Old-Fashioned Rose - Rambling Rector and Rosa Woodsii
The tree-climbers (Kew Rambler, for one) are doing rather nicely, and Rambling Rector (or Seagull - David Austin reckons they can't be told apart) loves the sunny spaces of the Allotment Garden. As I write this, three patient lovelies (including Hebe's Lip) are still awaiting relocation.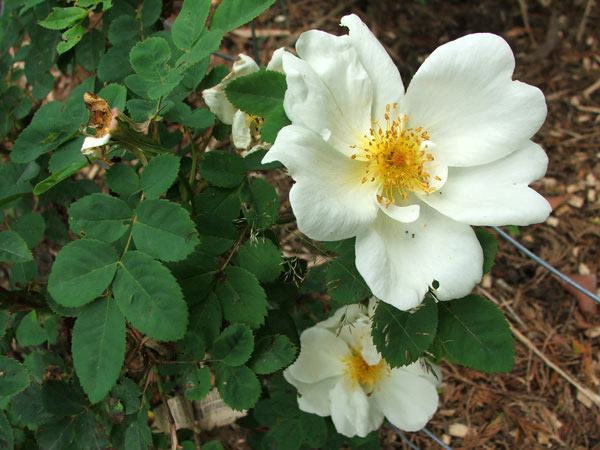 White Species Rose
Now in 2021 only one rose is left, alive and thriving, in its original location - an unlabeled robust species white, which oddly seems very contented with its lot in life. Best let it be, I guess! The lone survivor of my old-fashioned rose garden.