Corokias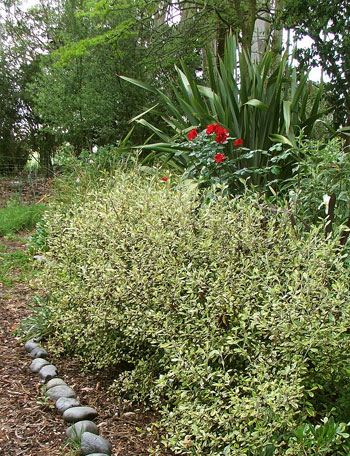 Variegated Corokia Hedge
If I was a modest New Zealand evergreen shrub, for example a Corokia, and my Head Gardener called me 'hard-working', I'd be furious! Surely there are more eloquent adjectives to better describe my many, varied attributes...
Gardener Gone Barmy?
Hmm - I sound as if I'm a gardener gone completely barmy, giving my plants personalities and egos. I'll try again...
Fillers, Hedgers...
Corokias do deserve a better description. They are subtle little evergreens, good at filling spaces (ouch) and making insignificant little hedges (ouch again).
One can forget them for years and then prune them back into submission. Corokias are extremely versatile (oh dear), and look great whether let to grow large or kept small. They don't seem to get bugged by anything undesirable, either...
Different Corokia Leaves
You can probably sense I'm struggling to write a half-decent Corokia citation. These shrubs are just too subtle and useful for their own good.
Brown Corokia
Forgettable
And some of the varieties which should be memorable end up being very forgettable. I used to think the chocolate brown Corokias were oh so stylish - I guess every gardener has to go through a brown plants phase, simply to come out the other end.
I now notice that their colour has collapsed into a murky green - pity, that. They looked really sensational in the nursery, and for a few months after being planted in the garden.
Clean Green
I grow a solid clean green variety, which at a distance looks just like all the other small-leafed evergreens in my garden - in other words, it's forgettable, though much appreciated. Hmm...
My favourite Corokias are the variegated yellow and green leafed ones. These I think I've put to good use. I have hedged with them, filled up gaps with them, used them to lighten up shady, dull borders, and popped them into my Shrubbery as a recurring motif. In other words, I bought six of them really cheaply...
Put Them in Pots...
I've even put Corokias proudly into feature pots. This is quite risky, stylewise, since they are so common and inexpensive...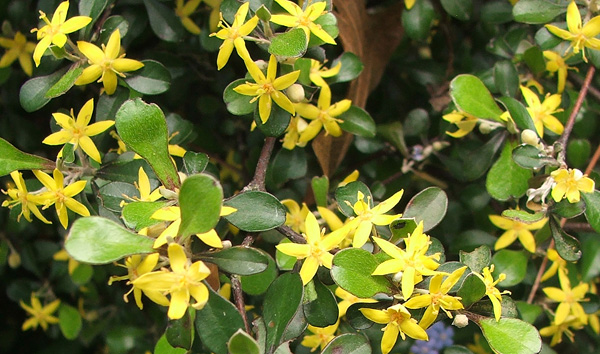 Corokia Flowering
Oh dear. There I go again. I really don't mean to be insulting... Pretty late-spring flowers, by the way - perhaps a bit small...