Using Phormiums in the Garden
I'm an expert on using Phormiums in the garden. I grow so many varieties, and love squashing them in with the roses and perennials, or at corners of borders, without any thought as to their spread of height. One should always grow what one loves...
Phormiums and Roses
New Zealand flax( or Phormium) hybrids are obviously readily available (and not too dear) in New Zealand. Oddly they're not a plant which appeals to the snobbish local gardener. Many people find them scruffy, or simply far too common. How silly!
Phormiums and Lawn Edges
I Love Phormiums!
I just love Phormiums, which I usually call flaxes. I don't mind keeping their dead lower leaves trimmed, or even slicing them into pieces if they totally outgrow their positions. I've dug and shifted flaxes in mid-summer with hardly a backwards glance.
Tenax and Cookianum Hybrids
I love the spiky form of the stiff, upright Phormium tenax hybrids and the soft weeping fountain shape of the Phormium cookianums. I love them all.
Oops
Oops - I do have a bad habit of planting them a little too close to the lawn edges. The leaves can get wrapped around underneath a mower, and cause - ahem - some problems, like the Jester flax in this photograph. They cannot be put into shredders either.
Obviously in spring and summer the subtle shades of flaxes can't quite match the richer colours on offer. But their form is such a beautiful contrast with roses and other fluffy flowers.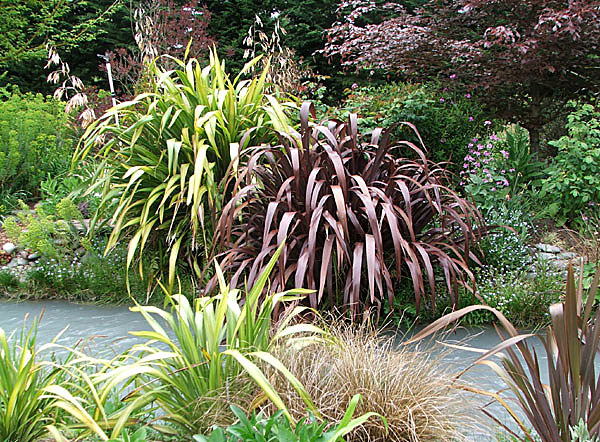 Phormiums and Water
And just you wait until winter! This is the season when my flaxes shine. Here is winter colour worth its weight in gold - or pink, or red, or green, or the deepest bronze...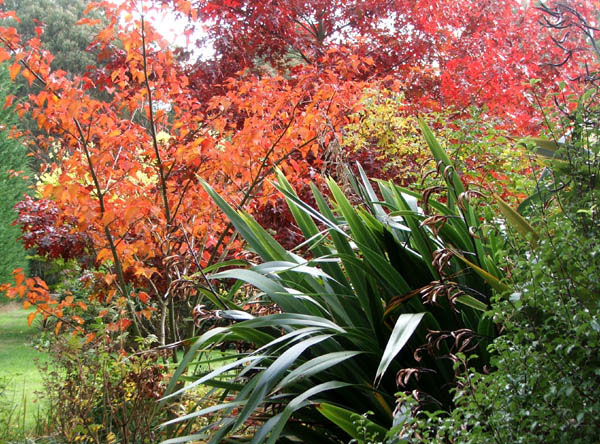 Phormiums and Trees
Patient gardeners can easily slice off small fans to regrow new plants. Annoyed gardeners (I was, once, after a snowstorm flattened a big bronze flax) can dig them out totally, and put the pieces into pots (cutting the long leaves short, as if dividing irises). The artistically minded can use the leaves for weaving something - Phormium leaves do not disintegrate.
Good News!
And good news for organic gardeners - I've never met a bug (or a slug, or any garden pest) that wanted to eat a flax bush!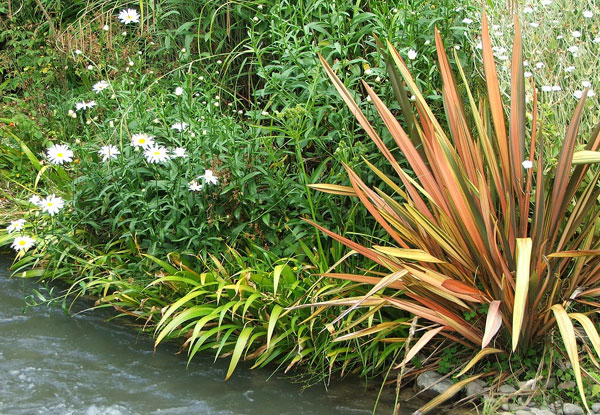 Phormiums and Flowers
My rule for gardening with Phormiums is quite simple. If your winters are snow-free, just do it! Squash them in, keep them trimmed, let them drape themselves or rub shoulders with all your other treasures. Put them in pots, plant them underneath trees, by water features, in front of things, behind things. Enjoy the colour and the form of Phormiums all year round.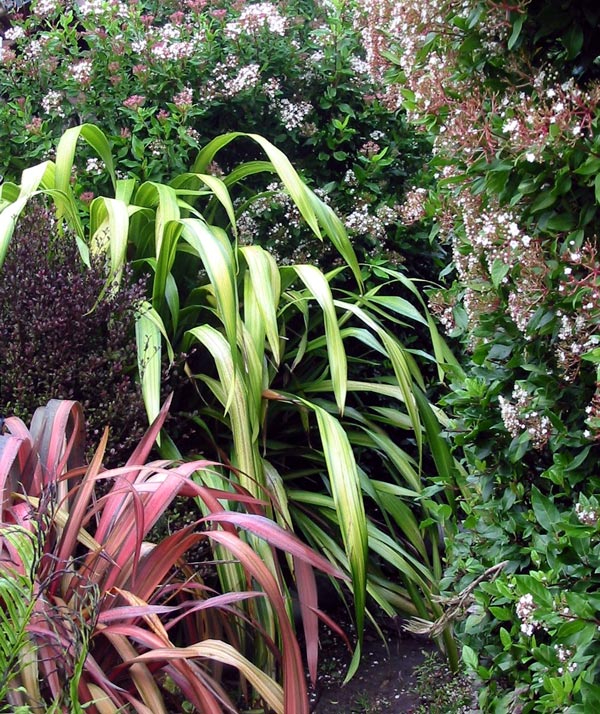 Phormiums in Middle Border