Salvia Black Knight
Salvias should grow well here in the free draining soil, and one of my favourite Salvias is Black Knight. I first saw this huge perennial in the back of the perennial border at the Christchurch Botanical Gardens, and loved its size and the deep purple-black flower colour. I sneaked some cuttings (shush - don't tell anyone)...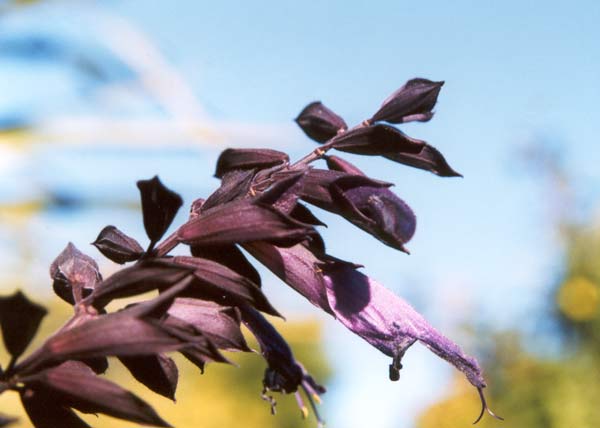 salvia black knight
I had places at the back of two borders where I planted Salvia Black Knight. For me they were slow to grow, and were not full sized until early Autumn. The flowers, too, unfurled slowly, with their colour deepening through the Autumn weeks. The final colour was the richest deepest blackest purple in the garden.
Tall...
The amount of growth over just a few months amazed me, as my plants would end up as tall as me. Every winter I would make sure that I had cuttings growing on in the glass-house for next summer's garden. They would strike easily with no complications.
Purple Flowers in Late Autumn
The bees loved the vibrant purple flowers, and in late Autumn would cover the plants. After cutting back in winter I'd protect the base with pea straw, understanding that some salvias had little tolerance of frosts. Oops. Black Knight was one needing protection. He was short-lived, and now I need a replacement. Providing food for the bees in late autumn is so important.