Autumn Sunset Rose
A few years ago a singing friend gifted me two of her spare new roses. One was Autumn Sunset, an apricot climber. I planted it in the sunny spaces of my newly created Hump Garden by an archway.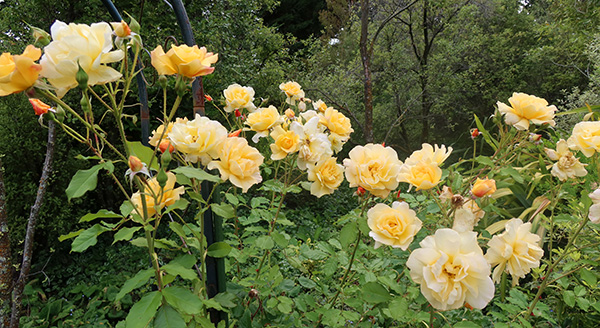 Autumn Sunset Roses
Was excited to find that Autumn Sunset was a sport of Westerland, but with flowers a softer apricot colour, blending with golden yellow. I have several Westerlands, and I love them, so I knew that Autumn Sunset would be similarly behaved. And it is, with the same fragrance, flower shapes, and growth habits of its parent.
Rather chunky...
Both are rather chunky in stature, and neither gets too tall or spindly. Perhaps Autumn Sunset and Westerland are better described as 'leaners', rather than climbers!
Autumn Sunset's flowers are semi-double, fragrant, and open from shapely rich apricot buds. It was discovered and named by Malcolm (Mike) Lowe (United States, 1986). And my goodness - all the nursery entries mention its resistance to blackspot. Definitely something to think about if you are choosing a new climbing rose.