Darcey Bussell Rose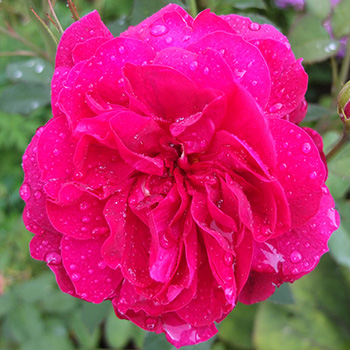 Darcey Bussell Rose
I'm sure other gardeners do this. They see a rose whose name intrigues them, and they order the shrub without further thought. I did this with the David Austin rose called Darcey Bussell.
Such a good name...
I bought this red rose for the name alone. I've always liked the boy's name 'Darcy' anyway - it's top of the list for the next male Moosey cat to join my furry family. And I suppose there's that hero Mr Darcy in Jane Austin land...
A Ruddy Faced Bloke?
But back to the rose. Oops. I'm ashamed to say that I thought Darcey Bussell had to be a bloke. I imagined a coal miner, a robust chap with ruddy cheeks, a real character... Oh no!
She's definitely a she, an ex-ballerina now retired, who pops up here and there as a dancing celebrity, a strictly female English rose! Sorry about that...
Darcey Bussell Rose
Darcey Dussell is claimed to be one of the best David Austin reds ever bred, with a 'pleasing fruity fragrance' (as yet undetected by my hopeless nose). So here she is, richly deserving of much praise, dancing in her first summer season in my garden ballet.
Colour-wise she's a bit of a chameleon, as far as photography goes. I've checked other images, and they're all quite different shades of red, as are my pictures. Her autumn colour is certainly more deeply saturated.