Ivey Hall Rose (Golden Smiles)
On one of my budget recycled rose-buying sprees I undertook to give a good country home to the yellow rose Ivey Hall (AKA Golden Smiles). This rose has a strong local connection. Although not strictly a New Zealand rose, it takes its Ivey Hall name from the original building at nearby Lincoln University, in Canterbury, New Zealand.
The original owner, one of Lincoln's graduate students, was going to London to further her studies. This rose meant a lot to her - she advertised for a new home, and got me! We even had a handing-over ceremony, with a photograph.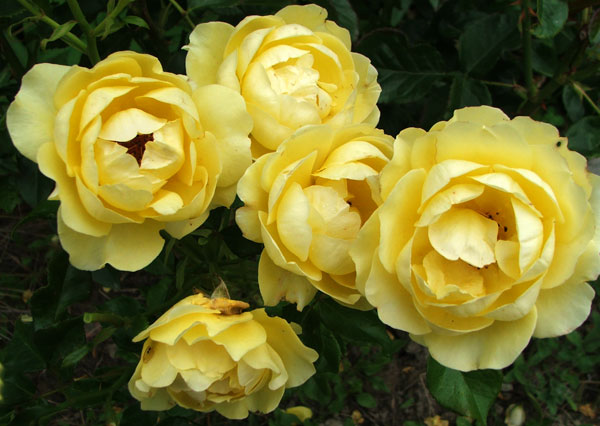 Ivey Hall Roses
I've tried to keep my promise to look after Ivey Hall, watering it through the settling-in period, and puffing my organic bug spray all over the buds to deter the aphids. A good country garden has good soil, lots of sunshine, and fresh air - just what roses like.
Ivey Hall (Golden Smiles)
Lincoln University Alumni Rose
Ivey Hall wasn't bred in New Zealand (its English name is 'Golden Smiles'), but it was commissioned by Lincoln University's Alumni Association for the graduates. 'Golden Smiles' describes this golden yellow floribunda delightfully well. I've planted it in a narrow strip of garden by my water race, in full sun, opposite some giant green Gunnera clumps.
Golden Smiles
Ivey Hall, or Golden Smiles - you certainly makes me smile whenever I pass you in bloom. And you look so sturdy and healthy - must be all that great country fresh air!
Yellow rose fans take note - this sunny charmer will be a great addition to your rose garden, if you can source it.