Royden Rose
Royden is one of the new roses I chose for the Birthday Garden - my sneaky birthday present to daughter, where I spent lots of money on heaps of roses, pretended it was a real birthday present, and felt completely justified - generous, even!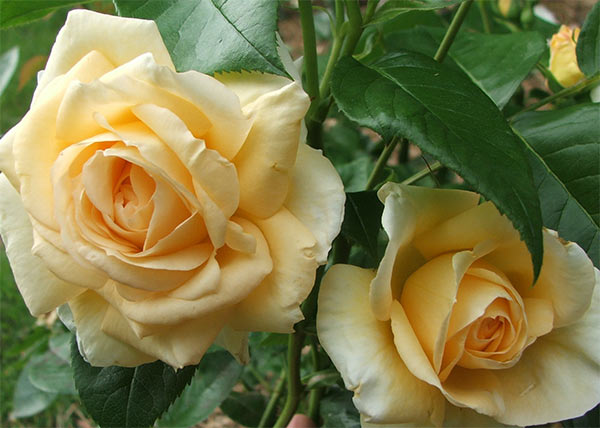 Royden Rose
It's a lovely rose which I'm sure is bred by a South Island New Zealand local. But Royden was missing from my big rose books, so I tried to be sensible and Google-search for some information. I was instantly referred to the pages of my very own journal. I also found a sea captain, and an orchid, but absolutely no-one was listing the fragrant, butterscotch-coloured rose I knew as 'Roydon'. Aha! You've spotted the spelling mistake? Oops, and apologies to Mr Cattermole, the breeder of this beauty.
A Scrumptious Rose?
So Royden (with spelling now corrected) does exist. It is a strong grower, with shiny mid-green leaves. It shares a heavenly fragrance with anyone lucky enough to walk past. The early buds are quite caramel in colour, turning to pale cream as the flowers open. Butterscotch, caramel and cream - what a great rose for a foodie! Yum - scrumptious!
Royden Rose Label
Back in 2005 Christmas present from one of my lovely students arrived - a Royden rose, complete with label. Yes! Proof! There was nothing dodgy about my memories, apart from that small spelling mistake.
I love this soft caramel-yellow rose, so sweetly fragrant and absolutely idiot-proof (not that I'm a rose-gardening idiot). I didn't realise it was so special, and that only one rose nursery, the local South Pacific Nursery in Christchurch, New Zealand, stocks it.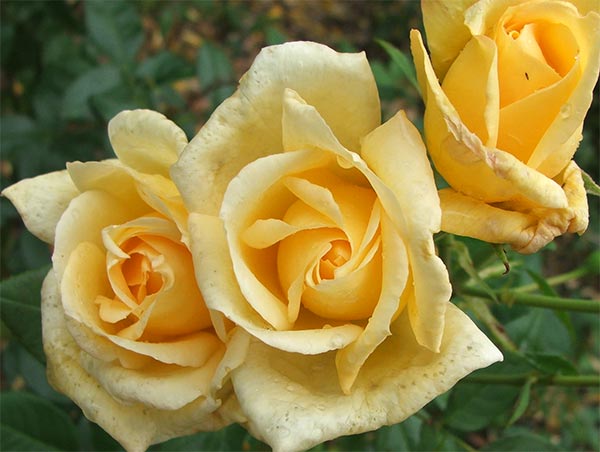 Royden Roses in the Birthday Rose Garden
Here's the rose Royden's history, as reported in Christchurch's local newspaper, The Press, in 2007. The garden reporter is Mary Lovell-Smith. And special thanks to a real Roydin (no relation!) who sent me the file and the information. And, thanks to South Pacific Roses, New Zealanders locals can source this wonderful rose.

Roydon Rose (PDF 8 MB)
Adobe Acrobat Reader
Adobe Acrobat Reader is required to view PDF files. This is a free program available from the Adobe Web Site. Follow the download directions on the Adobe web site to get your copy of Adobe Acrobat Reader.