Prosperity Rose
Prosperity is a hybrid musk white rose which I love. Other more famous New Zealand gardeners agree with me - Prosperity should be as popular as the ubiquitous white Iceberg.
It was immediately after reading Barbara Lea Taylor's rose book that I was inspired to find some white Prosperity roses to grow in my garden. I was a juvenile gardener, lacking maturity in the selection and growing of roses, and her writing seemed trustworthy.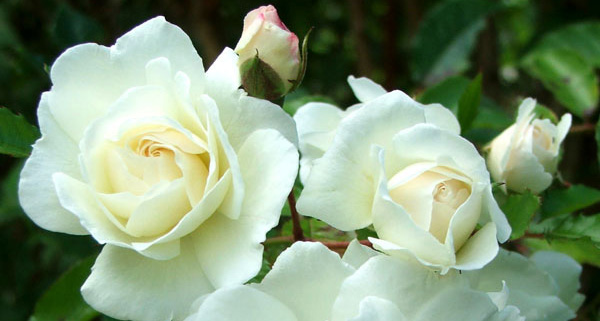 Prosperity Roses
Hybrid Musk Roses in a Country Garden
I also was interested in the Hybrid Musk roses - they seemed to be perfect for the space and air of a country garden, they were oldish, but were repeat flowering. Many of my very first real rose purchases (ordered from a reputable mail-order rose nursery) were Hybrid Musks - Moonlight and Cornelia, for example.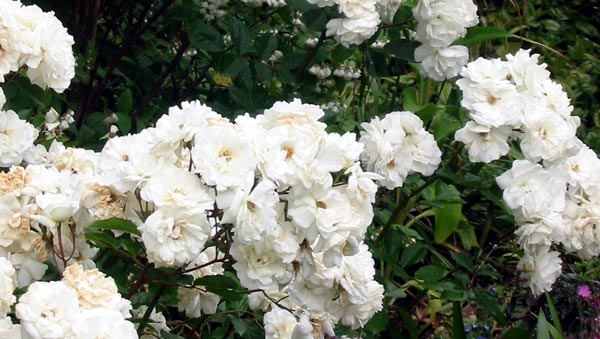 A Cluster of Prosperity Roses
My big rose book (which I often have to refer to in order to write intelligently about my roses) says something quite odd - Prosperity 'needs feeding' to provide good autumn colour. But it's a creamy white rose...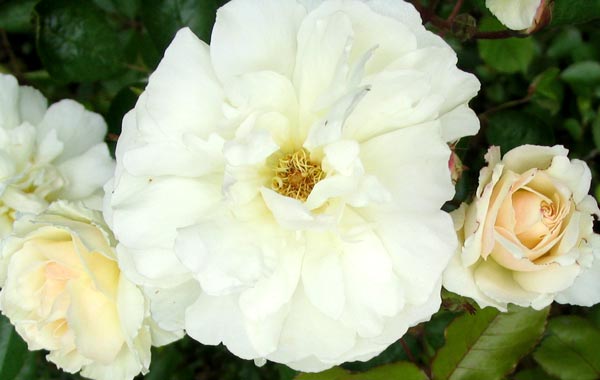 Prosperity