Robusta Rugosa Rose
Robusta Roses
Robusta is a modern rugosa rose hybrid which has crimson red single flowers. The name describes the rose perfectly - Robusta is very thorny and extremely vigorous. Strong red against strong green is such an appealing colour combination, too.
A Rugosa Hybrid
I have three Robusta roses in different parts of the garden. I fancy myself as a bit of a Rugosa collector, and Robusta, even though it's quite a modern hybrid, is now a firm favourite.
I wonder if it would make a great tall rose hedge? Certainly the foliage is dense enough. And the Robusta rose in the driveway even survives the amorous advances of my Clematis Montana. Another shrub behind the pond flowers well into autumn.
Robusta Rose in the Garden
Robusta tends to be a big shrub rose for a mixed border, and to perform well it needs fresh air and sunshine. So it's the perfect rose for a country garden with space and light.
A Romantic Red?
Robusta is definitely stronger and sturdier than other reds I grow (for example the over-praised red rose Dublin Bay). And so much more healthy. Red roses symbolise romance, and though its name isn't all that romantic I'd choose Robusta any day.
Red Rugosa Rose Robusta
Below is an archive photograph of Robusta, taken back in the day when red roses were always a tiny bit out of focus! Ah, those simple days of film and point-and-shoot cameras...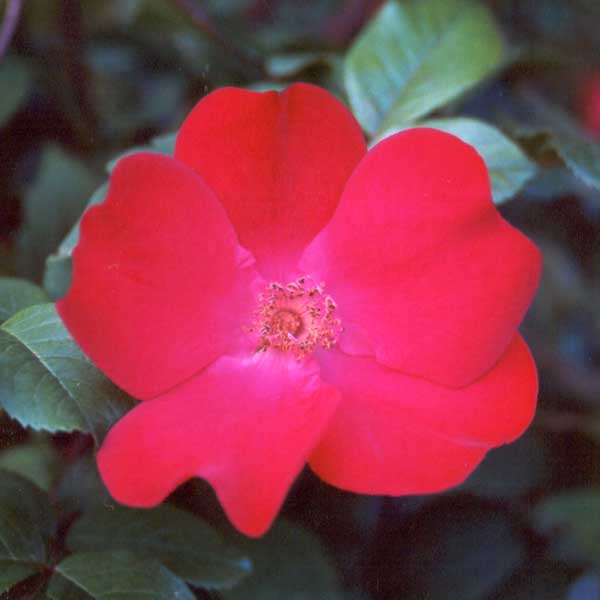 robust robusta, rugosa rose