Pond Garden Dining Furniture
Meals in the garden are much more enjoyable with a table, and for months I've been looking out for an appropriate outdoor dining set for the pond decking. It had to be wooden, sturdy (in other words not too rustic) and cheap.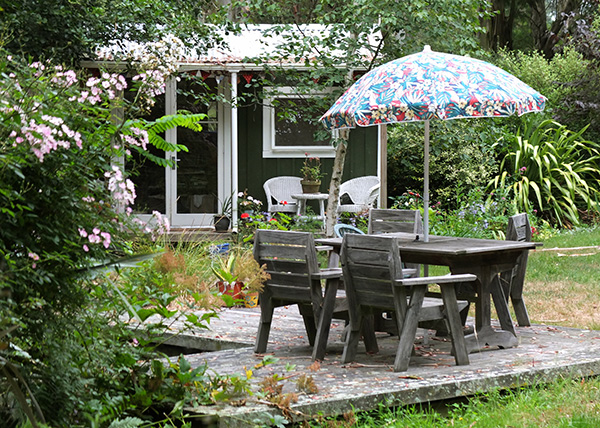 Pond Decking Table and Chairs
The pond decking has always been a great place to sit, or stand, or perch - in all seasons. Under the guise of elegant summer entertaining I've dragged bevies of green plastic garden chairs over - a temporary solution. Oops - if left on the decking for more than a few days they've usually been blown into the pond, where they've sunk to the silty bottom.
Tiger Cat Sits on the Pond Table
Aha! I've finally found a budget outdoors dining table and chairs, not even remotely wobbly, one which will even accommodate a sun umbrella. The middle of winter may not quite be the time to enjoy alfresco dining, but the pond decking is THE perfect spot. And remember - there are no mosquitoes in summer to spoil the evenings.
Pond Decking Garden Furniture - Spring 2010
Of course sitters get a superb view all year round of the pond flaxes (Phormiums) and those gum trees which tower above the Pump-House. Pond Paddock itself has spring features (flowering cherries and daffodils in the grass), plus lots of roses and foliage plants in its rather fully planted borders.
Cute Cottage
And how about that cutest of cute little cottages? That's my latest rather extravagant garden accessory, Pond Cottage (the name is obviously inspired). It's my home-away-from-home and is soon to have its bed, bookcase and armchair installed.
Pond Decking Garden Furniture - Winter 2010
The above photograph might look a little drab, because it was taken just six weeks after mid-winter. But winter outdoor dining can now be a pleasure!