Pond Plantings
Originally the plants, trees, and shrubs at the water's edge planted themselves. I left things alone during my first gardening years. In 2007 my Great Pond Beautification Plan was finally launched, and it's still going strong. There's always room for improvement - and more garden gnomes, hee hee...
Pond Path and Gnomes
Green ferns were already growing happily by the water. Non-Gardening Partner was co-opted in to chainsaw down large self-seeded trees, and I trimmed the overgrown Phormiums. I tried rhododendrons - no good! Instead I brought in tough foliage plants to fill the gaps - water-loving Carexes, Cordylines, and other New Zealand shrubs like coloured Corokias. And of course I found some space for my favourite rugosa roses.
Plants by the Pond Edge - 2009
In 2009 I started collecting garden gnomes - enough said. The gnome in this photograph is Bob. He's a healthy, happy little chap with the rosiest cheeks. I love those blue forget-me-nots!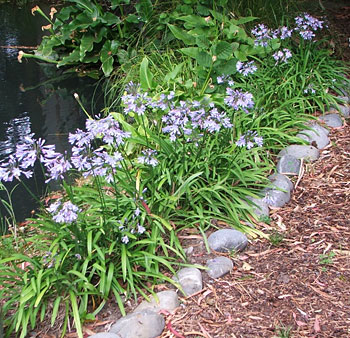 Miniature Blue Agapanthus
Agapanthus
To tidy up the difficult garden places I've dug in clumps of Agapanthus, a foliage plant which works well for me in my garden. I've mass-planted miniature blue-flowering plants along one pond edge, and in the interior of the garden behind the pond.
I know that some gardeners consider Agapanthus a weed - well, look at those beautiful summer flowers, and you decide! This weedy perception is good for my gardening budget, since Agapanthus are often free to dig out of other people's gardens.
And it's an edging plant which doesn't seem to get too badly damaged when eager dogs (like Rusty) charge through and leap into the water. That's a plus!
From the Moosey Archives
In archive photographs the pond edge is barely recognisable. For some reason I thought that the ground would be too difficult to work with - the soil too sandy, not enough water, those sorts of things. I left it alone for years and years.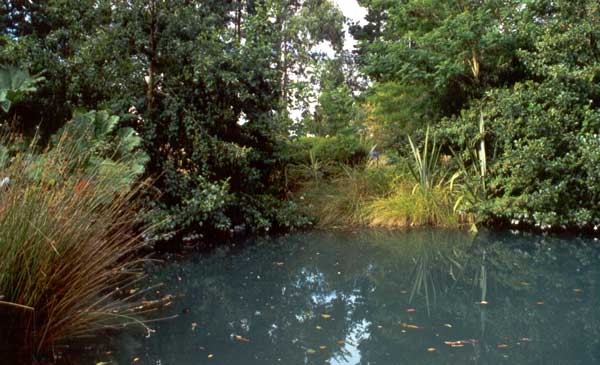 plants by the pond edge - 1998
My goodness - how quickly a garden can change, in the grand scheme of things - provided that the Head Gardener works hard at developing new garden areas, and keeps them well maintained...