Red Flowers in a Green Garden
The Stumpy Garden is primarily a leafy, shrubby, green garden, but some of my most beautiful red flowering plants grow here. Pride of place in mid-summer is taken by a clump of hybrid large red daylilies.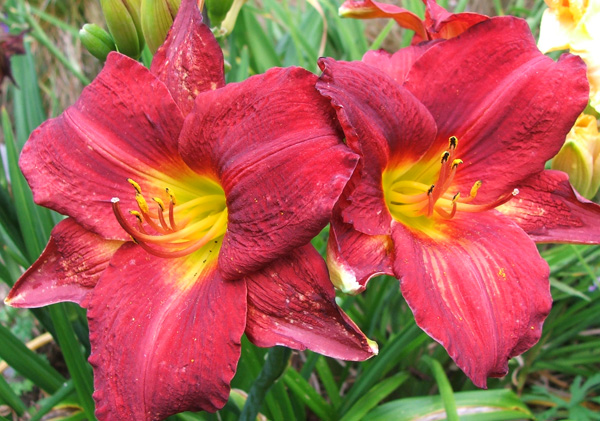 Red Large Flowering Daylilies
To think that I dug these out by mistake and threw them under the hedge to turn into compost! I didn't realise my mistake until over a year later, when the lucky survivors turned out to be species orange daylilies. Oops! I dug into my messy pre-compost and rescued the real ones - just in time. They are an amazing shade of red.
Sunny Roses and Perennials
Rhododendrons fill up the shady places in the Willow Garden, but there are still many sunny spots for flowers and perennials. In there I grow some of my favourite red roses.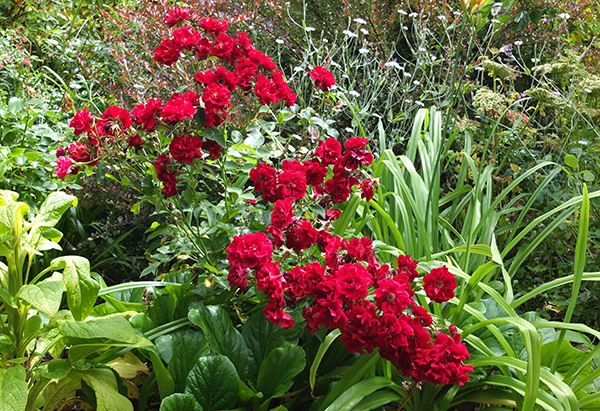 Opulence - Red Roses in a Green Garden
One is the beautiful deep red rose called Opulence. I love this rose, and it flowers later in the season when other roses have been dead-headed. Well, when other roses are supposed to have been dead-headed...
A Cardinal?
There's a cherry red rose which grows by the honeysuckle - I'm sure it has 'Cardinal' in its name. Anyway, I've always known it as 'Cardinal Someone-Or-Other' - maybe it's time for an attempt at positive identification, but these things take time. Other good red roses in this garden are Colourbreak (an orange-red) and a single red low-growing rose branded under the 'Flower Carpet' label. It has the thorniest canes, impossible to weed anywhere near. Ouch!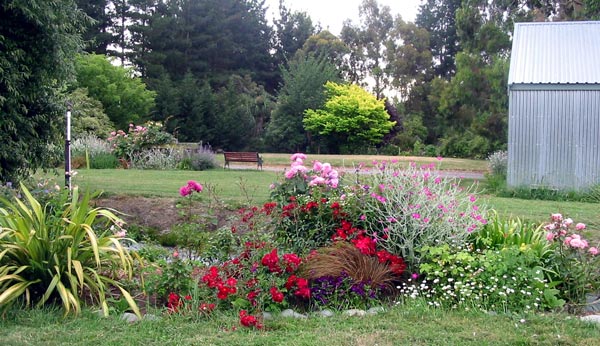 Single Red Rose - 2003
Some years ago I collected seedlings off the beautiful red dahlia with purple foliage called Bishop of Llandaff - just to see what would happen. My new plants missed out on the leaves, but their flowers are just as beautiful as the original.
My Seedling Dahlia
And naturally there are a couple of dark red Phormiums (though they're a dark wine red variety) and a red Berberis shrub to bind the flowers to the rest of the foliage.