Bad timing
Such bad timing. Right at the end of yesterday, with no time or energy left, I went over to Henworld - a circular garden underneath huge gum trees by the hen house. I was carrying my new metal rooster, and feeling jolly pleased with my tired and gardenworn self.
My New Rooster
The idea was to pop rooster in the Agapanthus with the others (yes, there are others), and then retire to the house, read my scary book (Maurice Herzog's Annapurna), and feel good about my day. Humph.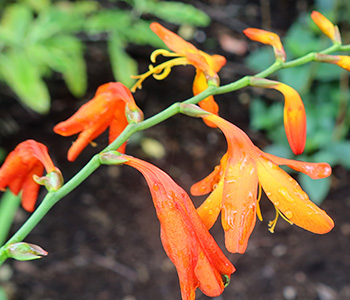 Crocosmia
Henworld a mess!
Alas, Henworld was a mess. This garden was created back in 2009, and has hardly had a make-over since - so what did I expect? Hmm. Layers of hardly rotting eucalyptus leaves, grassy weeds, self-sown Hebes straining to get up into the light, a floppy Phormium full of dead leaves, all the resident roosters fallen over in the wind...
But today is a new day, and I'm cleaning things up. Here's what's going to happen to Henworld.
H for Hen...
I'll re-lay the little brick lines between garden compartments (Hen World has bricks laid in the shape of the letter 'H'). That's H for Hen. I'll reshape its stone edge, widening the encircling path a fraction. Dig out the sad silver Astelias, Crocosmia, Renga Renga (Rock lilies), and miniature Agapanthus. Replant these somewhere else, somewhere sensible.
Agapanthus Pieces
I'll take the scruffy Phormium in the middle out, divide and replant some large clumps of Agapanthus, and transplant more Agapanthus (the large species ones) from the wild garden way behind the pond. Slop in some compost, water madly, and yeay! A newly planted garden. Then buy some more hens to scuffle and peck in the greenery. Hen World has a make-over!
Original Hen from 2009
Thursday 14th January
Oh boy! I've spent a couple of days planting greenery. Very messy work. I've also brought in loads of compost. Now I have to clean up the mess closer to the old Hen House, and turn it into a quaint, rustic feature. Well that's the long term plan, anyway. Had the naughtiest idea that I could just tip the mess over the fence into next door's messier paddock.
Most of my original hen statues in Hen World were destroyed in the 2012 earthquake. So I'm reconnecting with that perilous day in a spirit of positive chookiness. Have no plan to get live chooks again - issues with stoats and ferrets - but have a voucher to spend at the hardware store, hee hee.
Chookless!
Aargh! My voucher was initially unspent. The local store was chookless. But just a few days later, success! One of my friends found some hens at another hardware store. Have two new large hens and three chicklets to install. Nice. And just a few more agapanthus to transplant in.