Blue Delphiniums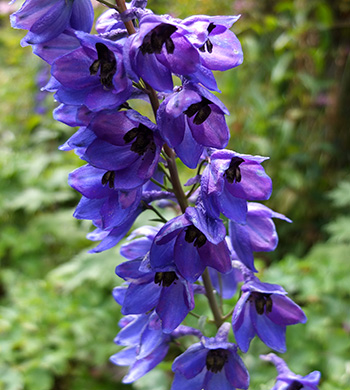 Blue Delphinium
The Apple Tree Border was the location for my first home-grown collection of blue seed-grown delphiniums. They were initially a bit of a flop (literally) in our windy summers. I rather hoped that the other plants would hold them up. I knew that Delphiniums were highly prized perennials, from reading my classy British gardening magazines. I was so proud that I could grow them myself from seed so cheaply. So they were planted lovingly underneath the Apricot tree, and I waited patiently for the blue flowers.
My Delphiniums Were a Flop!
Alas - my delphiniums were a disaster in those early days. The trees and shrubs planted nearer to the road were small and gave little wind shelter. The wind huffed - and it puffed... Stems flopped over, and I even thought of staking each flower-head. I'd read that in one of my English gardening books. And, of course, the English are masters (and mistresses) of Delphinium presentation.
Of course common sense took over, plus a proper sense of location. This was New Zealand. New Zealand was a windy island, and New Zealand gardeners needed to work with the wind, not plant against it. So they flopped, some flower-heads even falling off into the dirt - and I ignored them!
The Woodshed Rambler with Delphiniums
Perennials from Seed
The original blue Delphiniums frown from seed are still in the Apple Tree Garden, and all the plants around them have increased in size. The tall bush rose Fruhlingsgold now provides the perfect scaffolding. There's a lot of shade by mid-summer, though, and even if I cut them back I never get a second flowering.
Delphiniums and Roses
Delphiniums and roses are the perfect partners - so romantic... And since I love roses, it wasn't long before new, improved Delphiniums arrived at Mooseys.
Since my early 'seedy' days I've been given rather more classy hybrids, and I've even bought a few in perennial sales at the nursery. I always choose strong blue colours, though - there's the traditionalist coming out! Lilacs and pastel piny-blues look a little washed out for my summer garden - and they look terrible lying in the dirt, having been blown over!
New Hybrids
My newer hybrids are planted in the Roses and Perennials Garden, by the woodshed. They, too, have a rose to provide flower company, if not support.
Lots of new plants self-seed nearby, and I've tried to transplant them into close clumps. And I've learned to take basal cuttings in early spring, to further increase my stock. All I need mow is to control the wind...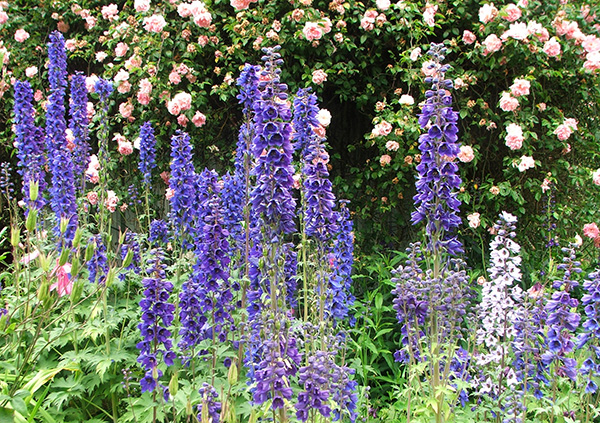 Delphiniums
Looking back, I took things so seriously in my early gardening days. Things have certainly changed - for the better, I think!