The Frisbee Lawn
Yippee! A proper photograph of this old established piece of paddock grass. The Frisbee Lawn manages to look good until summer. Then the ambience goes definitely downhill - there's no irrigation. It's been some years since the grass blades felt the gentle whirr of a frisbee...
The Frisbee Lawn in Spring
Nowadays the lawn is really only used by the Moosey dog chasing tennis balls. Somehow it seems wrong to change its name to The Tennis Ball Lawn. In my gardening dreams I've already turned it into a second large pond...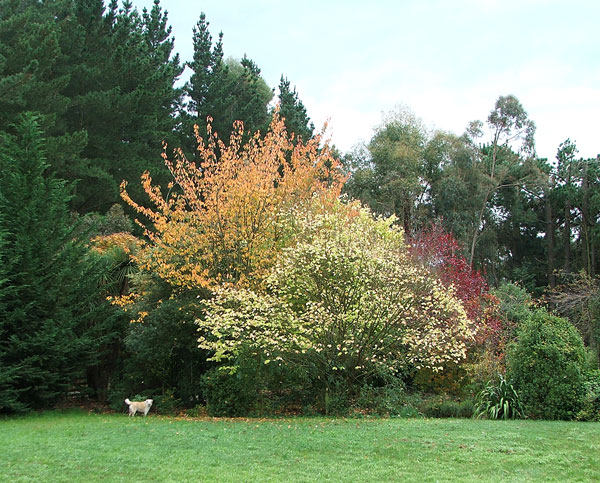 Dog on the frisbee Lawn
From the Archives...
Here are two early flowery views of the Frisbee Lawn, from my archive photographs. That lawn doesn't look as green as I'd like - and nothing's changed, either! A lawn in late summer without irrigation is a visual disaster!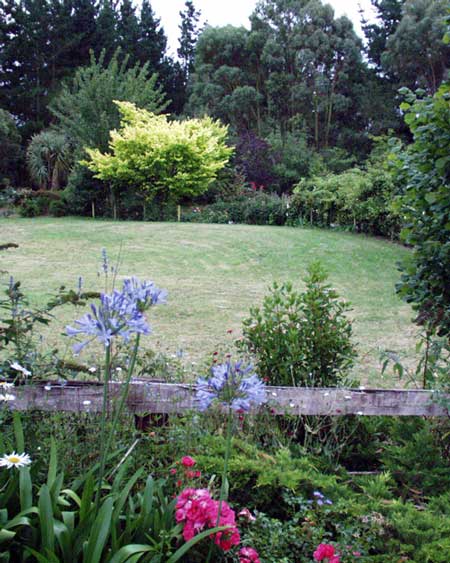 agapanthus by the frisbee lawn - archive photograph
At the top of the driveway I've planted some big blue Agapanthus underneath a big gum tree. Few plants grow happily underneath gums, and the agapanthus are welcome to bulk out and fill this dry, inhospitable area. Their bright green foliage always looks good. I do grow some smaller agapanthus varieties, but so far these have failed to get themselves photographed. Give them time!
Below is an early photograph of the Frisbee Lawn, looking over a patch of Lychnis and Catmint. You can see the grass is beginning to brown off - it does this every summer.
the Frisbee Lawn in summer - archive photograph
The blue flowering perennial in the archive photograph is the large catmint Nepeta Six Hills Giant. The Lychnis plants love being in this part of the garden - they get sun-baked in summer, and there's really good drainage.