Safari Sunset Leucadendron
The evocative name Safari Sunset suits this Leucadendron well. The colour of the spring growth is quite brilliant, and it's a strong growing shrub. How hardy? Of that I'm not so sure...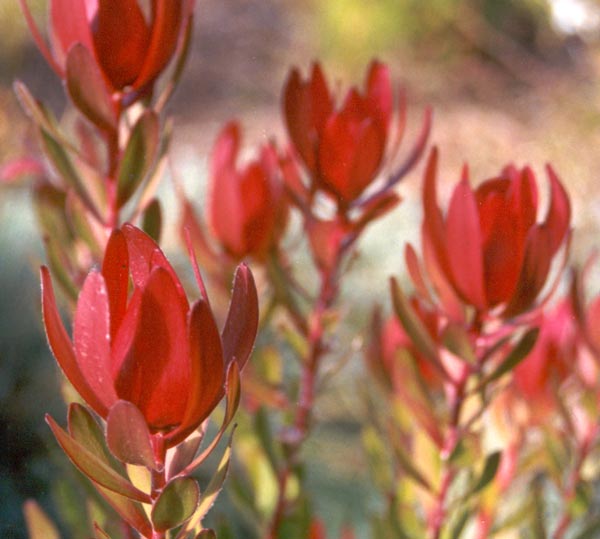 red close-up
The Leucadendron was a bargain bin plant at my local nursery. It is planted in the shelter of the Stables eaves and consequently is spared the frosts and the rain. Below is a very early photograph, taken in the year 1998.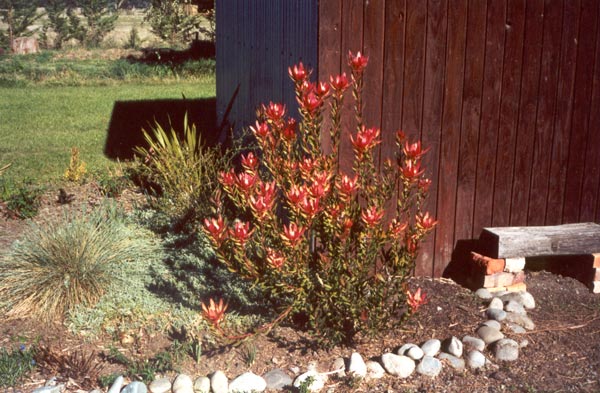 safari sunset in the Stables Garden -
from the Archives
, 1998
Since then the Leucadendron has had a few shocks - like the heavy wet snow-storm in 2002 which bent its branches to the ground. I have lately been trying to prune it to keep it from spreading too much. Those warm red colours are always something to look forward too, though!
The Stables Garden in Autumn
Oops...
After another wet snow-storm in the winter of 2006, I had to trim the Leucadendron severely - many branches had snapped, and others were leaning completely over, blocking the driveway. 'Oops' is the word. Safari Sunset has disappeared into the gardening sunset!