Crab-Apple Arch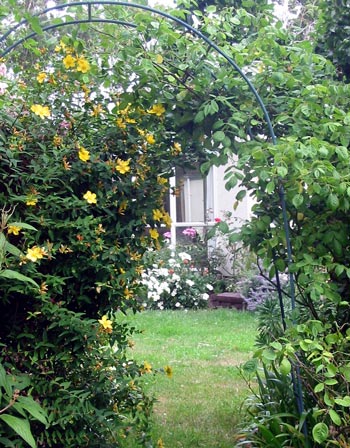 Through the Arch
A narrow grass path joins the house lawn and the driveway lawn, and a natural archway of green has formed over the gap. I've placed a rather rickety green arch in there to provide a little help for the roses and the small Crab-Apple Tree living either side of the gap.
The archway is very seasonal. In late spring the rose Buff Beauty drapes its subtle flowers over the arch, and the purple lavender below starts to flower.
Buff Beauty and Fairy Rose
Buff Beauty is followed in mid-summer by a cute candyfloss pairing - the pink rose The Fairy with sunny yellow flowering shrub Hypericum. Buff Beauty then takes over with her second flush of apricot-beige flowers, and all going well I remember to clip the Hypericum back.
Winter Fruit for the Birds
Finally the fruits of the Crab-Apple Tree start to turn red for winter. The Crab-apple arch then becomes a feeding place for huge numbers of birds, and the tree branches threaten to break with the weight of the bright red berries.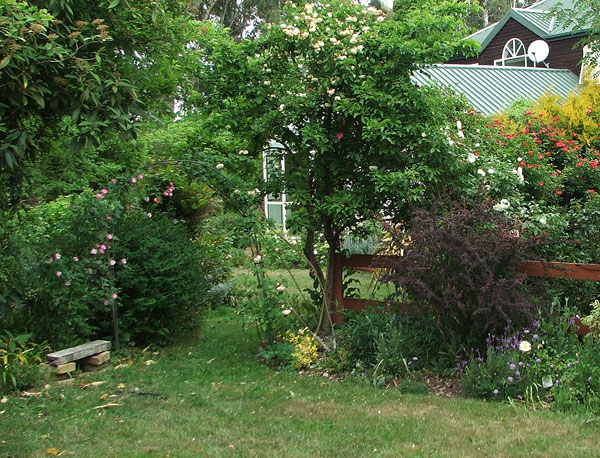 Crab-Apple Archway in Summer
When this brilliant but bleak winter display is over the gardener can look forward to the spring flowering cherry tree which can be seen through the neatly pruned archway. Well, that's the theory, anyway!
The Crab-apple archway can always be seen from a favourite viewing place inside the house - the breakfast chairs in the bay window of the lounge. Mid-winter gardeners often relax in these chairs to read or simply to stare out the window to watch the birds feast.
Just a Thought - 2008
The archway is falling to pieces, and Buff Beauty has now climbed to the top of the Crab-Apple tree. Perhaps nature can now provide the archway, and the wobbly budget one can be thrown away...