Cherry Blossom in Spring
Spring in the Driveway Gardens is very beautiful, thanks to a number of flowering cherry trees. The biggest tree sits in the middle of the Driveway Lawn, and I can see it from the house. I've planted miniature Agapanthus around the base, and encircled this small garden with river stones. A small contemplative statue leans against its trunk.
Flowering Cherry Tree
Underneath are two purple wooden seats - a bit wobbly, but the perfect, peaceful spot to sit. Overhead in late spring the blossom is noisy with the sound of buzzing honey bees. And sitting underneath when the blossom finally falls is just magical - like being in a gentle spring snow storm.
Blossom
Along the edge of the driveway are two weeping flowering cherries, which blossom slightly later. Then further down the drive is a huge pink vase shaped cherry (which could be the variety Kanzan). All were here when I first arrived, and I'm so thankful they were planted.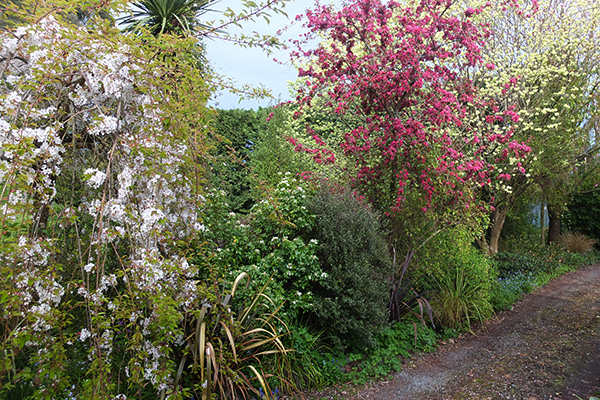 Spring Blossom in the Driveway
I've added a deep pink Crab-apple (Malus) which I think is the variety Ballerina. I also planted a Prunus nigra on the edge of the Driveway Lawn - it's one of the first to flower, along with several nearby self-sown trees.
So the Driveway Garden has its very own blossom wave in spring, lasting some weeks. I'm always holding my breath that the gusty nor-west spring gales stay away. Please don't blow the beautiful blossom off!