Second Hand Garden Benches
Two Garden Seats
I've recently allowed myself a short but highly focused spending spree on second hand garden furniture. Online auctions and the charity shops have been successfully trawled - lots of fun! It's all been part of a cunning plan...
The garden furniture had to be cheap and cute looking, in a rustic, country way. Officially this retail rush was part of the 2009 Moosey BIG September Birthday celebrations - the Head Gardener's birthday presents to herself.
Old Wobbles, New Screws...
But, importantly, the seats and benches would need things fixing - new screws, a paint job, old wobbles fixed, these sorts of things. This odd requirement was very deliberate, since it would immediately involve Non-Gardening Partner. Hee hee... Let me explain.
During the Moosey winter NGP and I were lucky to visit a special garden in Philadelphia called Chanticleer. I fell in love with the Adirondack chairs, painted in groovy colours like lime green, and positioned throughout the garden. NGP liked them too. He did - I know he did.
Where Are My Adirondack Chairs? You Promised!
On our return home NGP promised to build me some Adirondack chairs. He did - I know he did. Alas - four months later and he still hadn't started, so I devised a cunning plan. If I kept arriving home with dilapidated garden benches and seats for him to fix he'd likely take the hint. Easier to apply his skills from scratch than to stop old benches from rotting and wobbling to pieces - and much more satisfying. Besides which, he'd see me wasting good money...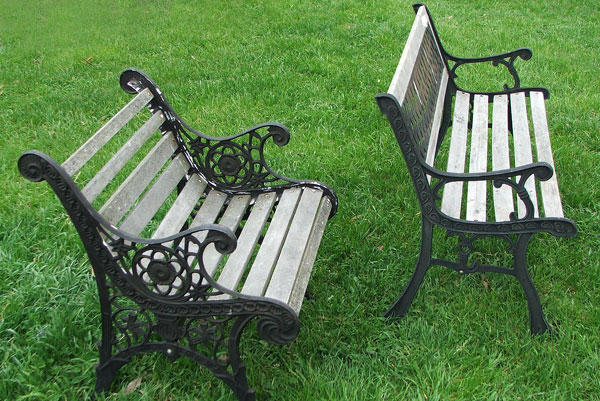 Benches Waiting for Inspection
Blast! My devious and sneaky plan didn't work. I cleverly placed the budget chairs just outside the garage, visible from his workbench, for three weeks. No action - not even any hammering repairs. The plans for the Adirondacks stayed on the kitchen bench, and NGP cleverly kept his distance. He went off skiing rather a lot...
Let Phase Two Begin...
So last week I got my wheelbarrow and carted the benches off to various garden positions. The odd screw fell off on the journey, and a few slats came loose. Phase two of my mistress plan is to serve NGP tasty weekend lunches on the various new birthday benches.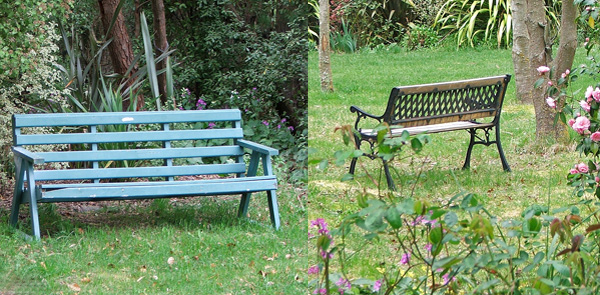 Two Garden Benches
He will immediately get a feel for the non-sturdiness of the furniture, and being a responsible maintenance man will have to return with his toolbox. And just maybe, as he munches his BLT, he'll feel the tiniest tweak of man-guilt...
I'm still looking forward to those Adirondack chairs. Maybe they could be my Christmas presents!