Things are changing every day...
A
Glass-House
Cup of Tea
October is the gardening month which races by too quickly, almost leaving the gardener behind. Things are changing every day - tulips, camellias and rhododendrons are in and out of flower, the early roses are getting ready to bloom, and all the borders are turning green.
Sunday 1st October
(Perhaps the first day of Spring...) Today I've noticed a lot of beautiful small things - the blue and purple pansies by the patio, the orangey tulips which glow in the sunshine, the white honesty which seems to float through the Pond Paddock Borders, the baby pink camellias and baby blue forget-me-nots in the JAM Garden...
Creating new gardens is both exciting and daunting, and not much time or energy is left for poking around in the older borders. Balance is required between working hard and pottering around being lazy.
I shall go back out now and potter a bit and enjoy.
Monday 2nd October
A blustery nor-wester is blowing today, and I'm late to go into the garden - it's actually 4pm I plan to water in glass-house, organise and tidy the seed trays, then wander around looking at more small things.
Tuesday 3rd October
I am going to potter all morning finding things to do (won't be hard!) in many different areas of the garden. I am slowing down a little...
The Sheep :

Most of the Moosey sheep are merinos - they are grown for their fine wool, not for meat!
The sheep are being shorn this afternoon, and are trailered up to a friend's farm. The lambs get left behind for 3 hours, then the ewes return. There is much baaing and bleating, and bouncing (shearing seems to give the ewes bouncy rubber legs).
Time for first cup of tea with cats.
Wednesday 4th October
I had absolutely no expectations for yesterday...I was allowed to be lazy, moochy, maybe to poke around for an hour.... so, perversely, my gardening urges kept on and on and on, and I finally went in (with the vege garden completely weeded!) at 6.45pm. A bath, a flowing white shirt, and I was asleep in the chair by 8 pm. Today I might try the same psychology! No lists, no goals... hmmm...
2.15pm..
It's worked well... until now. I came out of glass-house, and saw a wall of dark grey cloud rolling up the back paddock - had time to gather tools, cricket radio and camera before the southerly storm struck, with noisy wind and hail. I have done some great gardening though!
Ex-pet-lamb George had, according to the shearer, the best fleece of the whole flock. A proud moment - I just thought he was extra fat!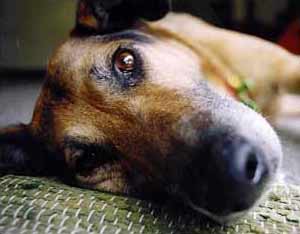 Attached to this Nose
Thursday 5th October
Taj-dog is under close garden arrest today - he has been finding and burying disgustingly rotten things, leaving them to ripen for a few days, then eating them... (and vomiting them up in the house, in the car, etc. etc.) Gross dog! Imagine a "web-dog-cam" attached to that nose, seeing exactly where it goes... second thoughts, I'd rather not know!
Taj-dog and I am inside for my first coffee break. Back later.
Later...
Taj-dog and I have had a great day, doing small things.
Friday 6th October
Today I organised the red pelargoniums in planter boxes by the stables. I've lined the boxes with plastic which will either 'cook' them, or enable them to retain some moisture. It's a hot spot.
Lots of seedlings are outside hardening off, and it's almost time to bring out the pots of Helichrysum, Ageratum, and daisies from the glass-house. Old favourites are never boring.