Too beautiful to be true...
This is the wrong time of year to have to be at work. Plants are growing quickly now, and the garden sometimes looks too beautiful to be true.
Bargain bin rhododendron
Saturday 13th October
I've been back at work a week, and two good things have happened. One is that it's rained heavily this week (this we were quite desperate for). Big fat Sifter went walkabout this week also, missing from the family food-bowl for four days. Last night he appeared at the very end of the lucerne paddock (which is so far away from the house and the gardens that I never talk about it). He looked happy and not particularly thin. Now it's Saturday morning, and we have been feeding him wee titbits every hour or so - a psychological ploy to affirm that he lives with humans. He is of course delighted with this and so far has been faithful. A strange cat, ruled by his stomach - and there are rabbits in the lucerne paddock...
Now I am off to buy a good digital camera. My off-season photos often make the garden look better than it actually is, while the photos of real garden growth and beauty just look a mess. This is disheartening for a new millennium gardener whose visa card is willing and able. There are lawns to mow and edges to clip, however, before the ceremonial taking of the first pictures of the garden in October.
I've returned after some digital fun. I've also cleared the Pond Paddock edges. More of the bargain bin rhododendrons are starting to flower - I seem to have some deep red ones and some clear yellows. These are exciting discoveries.
Sunday 14th October
My new camera is very tempting! I will end up spending so much time taking photos of the garden that there will be no time for weeding (hee hee). It is packed away until late this afternoon, and I am off to do some serious tidying up. The rains of last week have caused an explosion of growth, and aphids.
sheep in the Frisbee Lawn
Several photographs later - I have done most of the edges around the garden borders, both over the water race and on the house side. I have also taken rather a lot of photographs - just to experiment with light conditions, you must understand (hee hee). This means that I will have to prick out seeds in the glass-house tomorrow after work. Some of Middle Border's rhododendrons are most interesting (which means that I'm not sure if I actually like them or not, particularly the big puffy pale pink ones, which I seem to now have three of). And what am I going to do with all these new (digital) photos?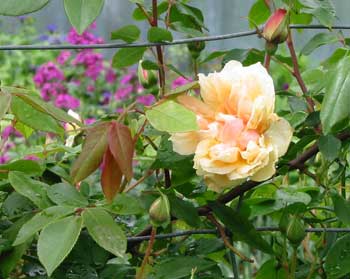 an early rose
Saturday 20th October
Everything is growing before my eyes! Roses are starting to bloom everywhere - the Fruhlinsmorgen single creamy yellows are sprawling in the Apple Tree Border, the rose Mutabilis by the house windows is sprinkled with pinks and peaches, even Mary rose outside the breakfast chairs has its first clear pink blooms. Patches of daylilies colour the edges of the borders, while the bevy of big pale pink bargain bin rhododendrons over the water race is growing daily. OK - I know that what you see (or don't see) is what you get - it is possible that these may be shifted out in the autumn. I actually don't like them very much, and hey - I am in control around here! Should they stay or should they go? Hmmm... My spade is twitching...
It's earlyish, drizzling, and I'm off to the glass-house to prick out more seeds - I promised my seeds they would be well nurtured this year. I will also do another rose aphid bust with the Neem Oil spray. The roses are inspiring, hopeful, peaceful...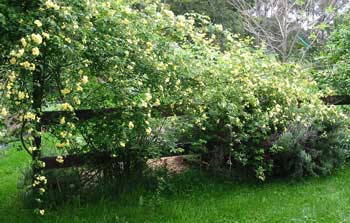 the yellow
banksia
rose
Later...
I've concentrated on seeds today, though I did have time to zoom around the garden taking photos of all the colourful things. The yellow banksia rose has covered half of the clothes line, and is in full blossom, with beautiful arching branches of soft lemony yellow flowers.
The flowering cherries in the Pond Paddock are drooping with the thickest blossom imaginable. There are aquilegias everywhere, and my favourite edging plants like Stachys Limelight and Heuchera Purple Palace are crisply growing. Forget-me-nots are filling in all the gaps, and I continue to discover new rhododendron colours in the borders over the water race. I am visiting the puffy pink ones daily and giving them a score. I am disliking them more and more!