I should be at home in the garden...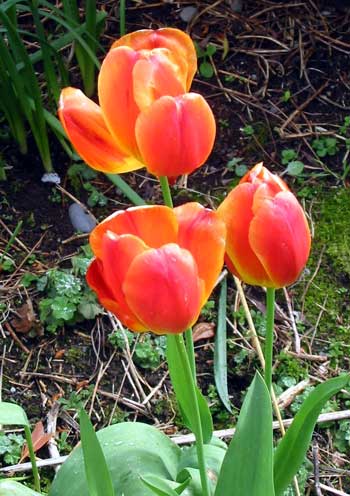 tulips
October is a month when I definitely should not be working. I should be at home in the garden enjoying all the changes, watching for the first flowers to appear and having too much time to notice everything.
Saturday 12th October
I've been back at school a week and already I want to retire! The garden seems to have taken off in the last week. It's as if there is a competition - who can spring the biggest surprise, who can change the most in five days. The Mexican Orange blossom shrub is flowering, with white tulips underneath, and the pond blossom trees are in full pink. There is green-ness everywhere, and the lawns seem to need mowing again, the edges also. It's a great morning for photos, too - there's quite heavy cloud cover. From where I sit to write my diary I can see the first Mary Rose ready to flower. The forget-me-nots which fill in so many of the spaces in the borders are at their very best - beautiful soft blue flowers sprinkled lightly everywhere.
Today I finished clearing the Wattle Woods paths (again!) and burnt rubbish. But I seemed to spend more time zooming around taking photos of small discoveries than actually working. There is also something very time consuming and dreamy about keeping a fire going - poking at the edges with the rake and watching the flames. I did do some edges, though. This is the beginning of the doing-edges season. And I watered my seedlings in the glass-house and thought about sowing more, particularly pansies. So I can retire for the day with some pride.
Sunday 13th October
I am up early ready for total garden immersion. Unfortunately there is drizzle, and a weather forecast promising hailstorms and sleet. I don't want hail - some of my hostas are almost fully leafed. I have thought about rigging up protective umbrellas, but have decided that this is definitely only for the tiny section courtyard gardener. I as an expansive country gardener must stick to my principles - we live with whatever the weather brings. At least there is as yet no rogue October frost to burn the Gunnera leaves.
Pond Paddock blossom
I have some brand new mid-blue gumboots to proudly wear, so perhaps I will christen them with a wheelbarrow trip to the hay shed to get some more mulch - it at least will enjoy the wet weather. And as always I will look under the side row of pines for Sifter the cat. So often in the back paddocks I think I hear him squawking on the wind. A few times lately I have dreamt that he has come home. I miss his stripes. I've read over my diaries of the last months and they are full of moanings and lamentations about him. Sorry, but there are certain parts of the garden that will always remind me of him. Hopeless cat! Anyway, now I am off to do something useful before the hail and sleet arrive. Jolly weather - doesn't it know that it's my gardening weekend? It can rain and sleet and hail tomorrow! (but not on my hostas...)
Four hours later...
I am probably being a bit lazy but the southerly (cold) wind has come up, and the temperature has dropped, so I have retired inside. I have been a modular gardener - shifting barrowfuls of mulch, replacing that with weeds, then branches etc. to be put on the fire. I've mainly been working under the Willow tree clearing more of the water race edges. I have noticed one of the deep red rhododendrons in the Dog-Path Garden flowering, but some of the biggest ones in here seem to be having the year off - there are lots of new leaves but nothing else. I can see Mutabilis rose in sparse flower by the house as I write. I also saw some RUST on the rose Masquerade. Hmm... I should buy myself a gardening whiteboard which could hang on the kitchen wall to remind me of annoying jobs. Must investigate.
Tuesday morning before work
There is a frost! Eek! Some of the lawns are quite white. I am too scared to go and peep at the Gunnera. Even the pansies on the pots are looking a bit shocked. More is happening, too - the clematis is in full rioting colour, the azaleas are in flower, and the angelica in the patio border has got twisty turning green fleshy stalks. How come I missed that in the weekend? But back to the reason for this work-day entry - a three degree frost on the 15th October is a bit rough! Come on Canterbury, be kind to one of your most committed gardeners.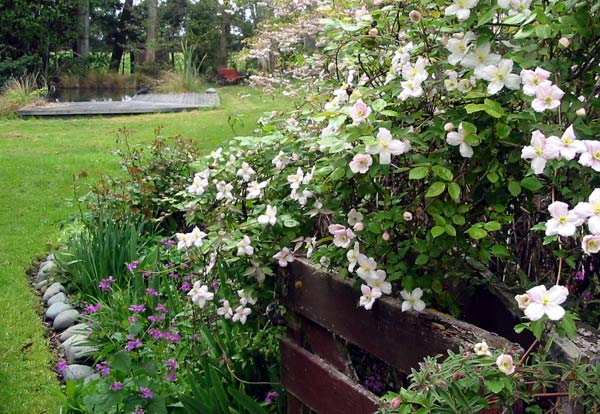 clematis montana
Saturday 19th October
I don't know what to do first. I have to spray my roses (and there is absolutely no wind). I want to take a video of the garden blooming in late spring. Garden maintenance is needed in almost every border. Seeds in the glass-house are ready for pricking out. The sheep have to be collected from the farm up the road (they were shorn yesterday). Watering of pots is required. And where is Sifter? I still miss him.
Sunday 20th October
Yesterday I decided to do things first, then make a list of what I'd done. This way my day would look terribly busy and productive, and my gardening self-esteem would be raised. Trouble is that a few hours afterwards one's efforts digging a small patch of weeds up don't seem very memorable, let alone recordable. Now it's Sunday and I can't remember anything important that I did yesterday! I seemed to poke around for hours and hours, with nothing to show for it.
Pansies
Today, however, might just be different. There is possibly a garden tour to go on - to visit large and small country gardens in Amberly. I will get a cup of coffee, cut some freshly baked bread (impressive) and go talk to Stephen. Trouble is that he might get scared off by all the trellises, arbours and pergolas we will see. There may also be peacocks and doves.
We are going. The house lawns are mowed, and the edges of the house borders are done, so when we return my garden will look beautiful and I won't panic and think I should work until midnight. Back soon, hopefully refreshed, inspired and full of personal gardening confidence.
We are back. The very last garden was inspiring, and I have decided that my garden is too small. However I do not resort to chemicals to do my edges. There are more spaces in my garden than in the gardens we visited - these were absolutely full of blobs of colour. I have been racing around for the last hour planting any spare plants I can find. I also weeded the new rhododendron patch in the Hump, where the soil was remarkably moist. Now I am inside to organise tea, then I have more plans.