I should be retired...
November is another month in which I should be retired. Roses are out. Plants are growing Some plants have even finished flowering and need clearing up.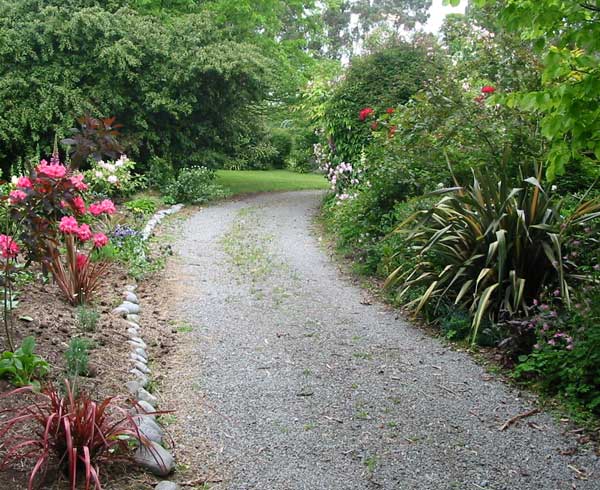 the driveway in november
Sunday 3rd November
My job sucks. This is my absolutely busiest month. I am missing out on so many gardening experiences. My latest plan is to get a new puppy. Then I would have to leave work because the puppy would need lots of care and attention during the day. Hee Hee...
So far this weekend I have sliced weeds off the slope to the water race and tried to slice the dog-path clear. This is physically difficult - the angle of spade required demands that one's nose is level with the mud. This week we had another late frost, and the flowers on the Mexican Orange Blossom have been burnt. The Iris confusa which I usually rave about suffers badly - many of its leaves are burnt. Not such a good look this year I fear. But I've still pulled a heap of it out and planted it in the new rose garden by the Willow tree. This is a unifying element in my overall garden design (hmm...)
Now it's Sunday and I have had my first cup of coffee and am ready to get back out there. I am going to burn the rubbish pile first, then look around for the next thing to do. Back soon.
green
Later...
Oops - there is a fire ban. I've been a bit lazy, just poking around over the water race. Went to my friend's and picked up some geraniums (Johnston's Blue) and a rose. She also donated me coils and coils of garden hose. These will be very useful. She will miss her country garden.
Saturday 9th November
In just one week the grass has started to brown off, and the garden is desperately dry. I have tried to move the hoses around all day. Good news - the big irrigation pump has been put back into place and later tonight the big sprinklers will go. I've had a bizarre day pulling out barrows and barrows of dried up forget-me-nots and honesty. Every border on the house side of the water race is suffering. When did this apparent drought creep up on us? I am quite puzzled - this time last week all the lawns were green. Very odd.
the Apple Tree Border
Saturday 30th November
I'm so sorry that there have been no entries in the last weeks. Blame my job! I have done quite a bit of gardening, but very much in the maintenance line, and somehow the diary has slipped. First time for a while that I've gone to ground, so to speak. The roses are really blooming well now, and there are a lot of exciting things to talk about. The foxglove spires are everywhere, and the apricot Crepuscule rose is happily flowering over the pergola.
I've managed a few unofficial gardening days midweek where I've been pottering around clearing and weeding and doing edges. When the lawns are freshly mown all the borders look beautiful - there are masses of blue pansies covering the dirt, and colour everywhere. We've had a lot of rain since I last wrote (complaining about the grass browning off, I see), and one rather cold southerly where we had the wood burner going for three nights. Crazy climate! This has overall been a cold November, and the vege garden is well behind schedule. My garden snacking rows of peas have sprouted, and new lettuces and red-stalked beet are in.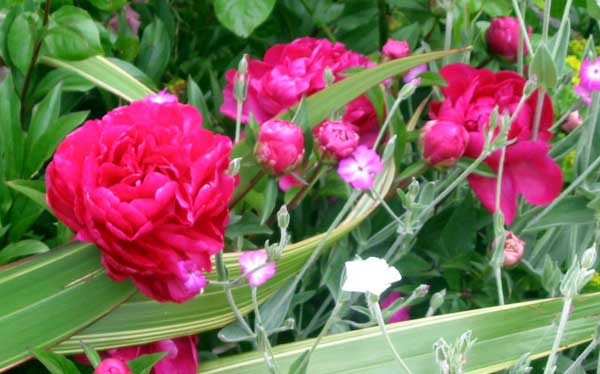 pink peony
Now I have to stop twittering on and get outside. There's a rubbish pile to burn before the wind comes up, and paths to clear.
My work friends are visiting next Thursday for a private garden visit, so this will be a good incentive for me. I have already tried to clean up the patio pots etc. as one of the friends has a problem with spiders. In the country here spiders are great, and I won't allow any exterminators in to de-spider the house walls. Hopefully my superficial wipings of old webs haven't distressed the residents too much, and they will have the decency to remain hidden high up in the nooks and crannies and not drop down onto the outdoor table in the middle of our afternoon tea (hee hee).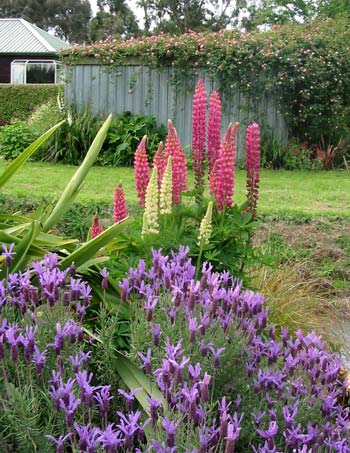 lupins
Later...
It feels that normality is slowly dribbling back into my life, just as the water is slowly filling our new 15 500 litre water tank in the second to back paddock. I have a long term plan to plant some rambling roses and other large toughies around it. For the moment it sits under the fence-line gums, very large and sturdy, a subtle shade of dull apple green. The views of this summer's flowering garden from the upstairs windows seem to be quite different - the plantings over the water race of course are even bigger and bushier, and the flaxes are huge.
I can remember when they were planted and looked so silly. I have taken 100 photos (seriously!) of all parts of the garden just in case I blink and all the beautiful things are blown down or blown away by wind. This may be a season of the hard dry norwest winds, in which case plants like foxgloves have to be appreciated while they are vertical.