Mud-gardening?
Eek - the week has started with a rather cold wintry blast of weather. This means thermal gardening clothes, and mud-gardening, with the log fire burning slowly in the house.
Wednesday 7th April
I am now going outside to continue cutting out the Golden Hop - the Master of Garden Thuggery - which is marauding through and strangling all the plants in Middle Border, and thus no longer welcome. I hope it won't be too wet and muddy, though. The southerly struck yesterday, and places not fifteen kms from Mooseys actually had snow. C'mon, Autumn! I need another six balmy pleasant weeks to do all my major remodelling.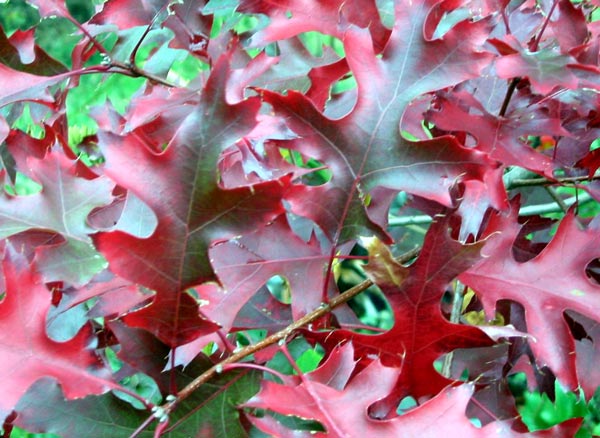 Autumn Leaves
The trouble with mud-gardening is that once you're outside you stay outside, and once you're inside you stay inside - if that makes any sense.
Calendula Flowers
Slightly Defeated...
Right - I'm back after two hours, feeling slightly defeated. I can clear the outer edges of the Golden Hop's circle of progress, but I fear I will need some sort of chemical attack to get the main roots out - my spade won't even slice through them. To counter my Hop-depression I shifted the rhododendron (a Whitney's Apricot) which needed shifting and tidied up the Tricolor flax. I will have to see my chemical consultant later tonight.
Temperatures are on the rise, too, so kneeling and lying in the mud in my thermals has been quite pleasant...
Thursday 8th April
I am up really early (it's still a bit cold). There are showers forecast for this afternoon, so I intend to keep on clearing in Middle Border this morning. After a good night's sleep the removal of the Golden Hop may seem more possible. That blasted plant! I should have kicked it out years ago. I am sounding like a parent of an over-sized over-aged teenager.
Later...
I didn't go near the Golden Hop, in case it made me lose too much confidence. Instead I had a huge burn-up, and cleared a bit more of the edge of the water race. Then the rain came. The destruction of the Golden Hop can wait. Stephen has suggested a pick-axe...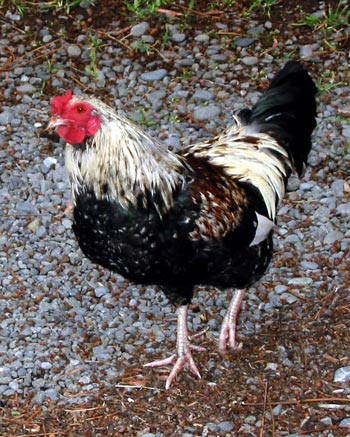 Garden Visitor
Good Friday 9th April
Happy Easter! I'm up early again, dressed in thermals and warm vest, ready to go to the Great Easter Nursery Sale.
Two hens and a cute rooster from next door are pottering around outside pecking at the grass on the house lawn. They have been visiting each day for a while now - Taj-dog Senior takes no notice (Taj-dog Junior would have chased them off the property, along with the lone duck who cruises the Pond Paddock).
I thought I'd have a preparatory peep at my latest Fine Gardening magazine before I zoom off to check out the nursery Bargain Bin. Aaaargh! In an article called "Colourful Climbers" there is my gardening nemesis - the Golden Hop - covering a neat wigwam of sticks, looking freshly lime green and very lovely.
I intend to encourage Stephen to demonstrate the pick-axe - after we've been to the Plant Sale.
Early Afternoon...
I have been working for over three hours. First I spent an hour digging out more of the Golden Hop, in the spirit of an independent gardener. Then I sawed off some Pittosporum branches which were crowding out other specimen trees nearby. Then I collected three barrow-fuls of gum tree rubbish, and brought my whole morning together by having a long satisfying burn-up of everything.
Bergenias :

Bergenias are favourite evergreen foliage and flowering perennials. Their leaves have great autumn colour, too.
The sale was good. I bought cheap pots of Bergenias and variegated Carexes, a couple of flaxes and some ornamental Japanese grass. One slight problem - the rooster and two hens have discovered my Autumn vegetable garden.
Rooster got himself into a pecking frenzy with one of the remaining ripe tomatoes. I tried to redirect him to the super-sized marrow (no luck). Silly bird-brained bird!
Saturday 10th April
The Gardening Legend Moosey is back! Yesterday I returned to the garden and started another major weeding, pulling and burning session. The nasturtium patch by Duck Lawn is now cleared, and the lupins cut back. There are lots of seeds on the ground for next year - nasturtiums have the good sense to hold their germinating until winter is over.
The Back Lawn
I also dug the potatoes out of the surrounds of my compost heap, dug up most of the nasty grass which has always lived here, and burnt it.
Today I am up quite early (I retired to bed rather early after yesterday's efforts), determined to return to Middle Border to wreak more havoc on the Golden Hop. The sun is shining, the birds are singing, and I can hear the visiting rooster crowing by the Stables...