Too late?
We are just past the winter solstice. The days have started to get longer - well, just a tiny fraction, but enough to lift my gardening spirits towards spring. Should I plant some more spring bulbs? Is it too late?
Wednesday 22nd June
Oops. Not much gardening news to report. Yesterday was a lovely day, but I was busy collecting pinecones (in between going to work twice) - no time for dirtying the fingernails, or even sweeping the house patio (which is covered in fallen Wisteria leaves). We might get some Wisteria flowers this spring - how exciting!
Yellow Wave Flax in Winter
Just one day after the winter solstice and already I am thinking about spring things! No real cold snaps of winter have struck yet - just you wait, Moosey House Guest! Wait until the pond freezes over and the windows in your sleep-out are icy on the inside! Then there could be snow - and a run of mornings when it's too frosty to garden before 11 am. The Moosey House Guest is from Sydney, where they don't really have a winter (he claims).
Gardens at Glastonbury?
The London Moosey Team have gone on holiday to Glastonbury! I have alarming visions of them mud-dancing, and doing some serious mid-summer cavorting. The good name and reputation of Moosey (a child of the original Woodstock - well, at least in spirit!) must be protected from such things! Hopefully the air temperature will be less than 25 degrees Celsius (the comfortable nude temperature barrier, according to my book). Hee hee. I wonder if there are any nice gardens around Glastonbury?
Heaps of New Roses
Huge numbers of pinecones are waiting to be collected down the road, and I have more firewood to stack. The Moosey garden has been neglected again during this week, but tomorrow I promise to attack a border or two. The flaxes are looking typically beautiful, but there is much weeding to do.
Weedy Weeds?
Which reminds me - the word 'weedy' (or 'weed') describes a person who is - well - rather feeble of physique, runty, a poor specimen, and so on. So how come the weeds in my garden are robust, healthy, lively and extremely vigorous, and absolutely blooming with good health?
Thursday 23rd June
Hee hee! Yes, today I am much happier! I have been in the Moosey garden. I have been planting new roses - ten - which I purchased from the supermarket (oops) this morning. I have filled the Willow Tree Garden extension with a colour wave, taking the different tones into account. Ha!
All the bluish toned roses are together, and creamy white Margaret Merrils separate my different colour groupings. Mary Rose (a present from a colleague for me being Mrs Helpful) has pride of place, naturally, in the middle. For the sake of decent garden records I will now present a short list, from west (the car bridge) to east (the Hen House):
Short List - Willow Tree Garden Roses
Blackberry Nip (the colour looks gorgeous)
Brilliant Pink Iceberg
Old Port
Mary Rose (best of the English roses)
Margaret Merril
Paul Gaugin (a striped floribunda)
Claude Monet (another striped floribunda)
Paddy Stephens
Margaret Merril
Strawberry Ice
I had wonderful cat-company, this time from the two little cats Tiger and Smoocher. The willow tree in winter provides them with great climbing opportunities! It is lovely to be outside doing things for next spring (and summer), rather than dreaming inside by the fire and writing feeble lists.
Rose Compassion :

My first attempt at a serious winter list of new roses was a bit of a flop!
It just remains for me to up-style my rose purchasing from the local supermarket to a specialist nursery. As a rose shopper I am driven by greed (I want lots) and budget (I want them cheap). And in the middle of a blooming summer do roses remember their humble 'roots'? No way!
I have also planted a little Nandina shrub near the middle edge. The next phase will be to pop in some clumps of daffodils, and then maybe some foliage edging like Stachys and Bergenia. Thus all my garden borders end up looking the same, but I don't care!
Friday 24th June
I've been at work for most of the day. Puppy and I have just completed a long dusk Hazelnut Orchard walk, passing through the planned rose avenue to the gate in the hedge. My imagination is stirring - old fashioned bush roses will suit the roughly manicured grass strips between the trees, and will look so very lovely in early summer. Perhaps even rugosas (I am confident with rugosas) with red autumn rosehips would be nice. I will make a preliminary paper list right now, in front of the fire. Thirteen pairs of roses - how exciting!
Saturday 25th June
Things are very serious. First of all there is a four degree frost outside - all the lawns and the garden borders are white. Puppy and I have had a brisk crunchy walk around the property, and now I'm back inside with hot tea and Stumpy cat on my lap. It's far too cold to do anything outside, which leads to the second serious thing.
Hmm... Smells Like...
The first big southerly storm is moving up the country from the South Pole, and is due to arrive late this morning. Snow to 200 meters is promised, and that possibly means us! My window of gardening opportunity is well and truly iced over! It's the weekend - since I've been stuck a bit at work this week I have a list (naturally) which involves digging (in the frost? Humph!) and then planting in the Willow Tree garden extension. I have Stachys Limelight plants ready for part of the new border's edge, and also some Heuchera. I want to plant the Peace hybrid tea rose in here, and also the rose Black Beauty - they are in potting mix behind the glass-house. Then I need to spread horse-poos, lay down newspaper, and cover everything quickly with mulch (before puppy gets any stinky-dog ideas). Then there are pockets of spring bulbs lying on the surface to replant. I want to all this, and more, before the weather deteriorates.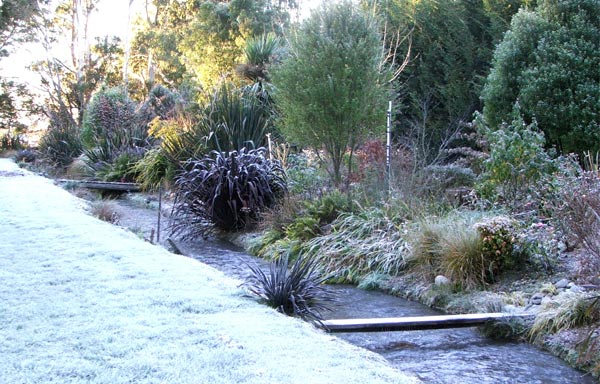 Frost on the Back Lawns
And now to the third of the serious things - I had a good 'discussion' with Stephen regarding the rose avenue in the Hazelnut Orchard. He will facilitate the building of the thirteen archways! This is so exciting. Think of those coloured pictures of wide, opulent arched walkways covered in dripping roses - Souvenir de Something, and Gloire de Something Else - as seen in glossy big books about famous gardens (who have head gardeners on salaries and who employ other staff)... Well, in the Moosey mind (which is more fertile than ever, considering it's mid-winter), this is the look which will slowly and gently become a reality! Ha! Finally the Hazelnut Orchard will become a place of colour and beauty. I even thought I could have a rose at each row end, where the driveway goes down to the haybarn!
Go the All Blacks :

New Zealanders are mad about rugby - it's our national game.
Right. It's time to at least try and get garden-organised before the big storm. There's a rather important rugby test match on in town tonight - the All Blacks versus the British and Irish Lions.
I guess the visitors will be used to cold weather. If the All Blacks lose the whole country (including me) will go into official mourning...
Later...
Hee hee. The weather has held, so I have planted the roses, Stachys and Heuchera, a large clump of hellebores, a little ground covering sedum and two bags of daffodil bulbs. But there's more - I have covered the whole of the Willow Tree garden extension with mulch. And I've collected six more bags of pinecones. Now I have retired for the day to wait for the cold rain. Sometimes the southerly rolls down the back paddock, like a battle line of angry grey cartoon clouds. This one is hurrying slowly - a bit more breeze, a bit less light, a wee drop in temperature. Where's the snow? Aargh! I'm ready for it, snug (and colourful) in my woolly avocado green merino top and my turquoise blue tramping long-johns.
Keeping up with the garden
Sunday 26th June
Well, there was no snow - and New Zealand won the rugby - and today has dawned chill but dry, with feeble winter sun. Puppy and I have again checked out the Hazelnut Orchard - the proposed rose avenue (there is a gap between tree trunks of about six meters) is getting really serious!
Gardeners with non-gardening partners responsible for constructing pergolas, archways, and trellises will recognise the defining moment in time when the proposed pergola/archway/trellis stops being a silly gardener-only dream and starts becoming practical and possible. Non-gardening partners have avoided and even ridiculed the pergola/archway/trellis idea for weeks. But then, one random morning, the breezes of change huff and puff gently. Ha! That moment has come to Mooseys!
It's Official - An Avenue of Rose Arches!
We (that is, head gardener and non-gardening partner, the resident construction expert) are off outside to officially check on the thirteen proposed archways. The orange cat Smoocher and the orange dog Rusty - a stylish pair - will accompany us. Last night in front of the fire (and the rugby) my most serious list yet of climbing roses suitable for archways was created. I'm looking for fragrance, bendy canes, and I don't want any twelve meter monster ramblers.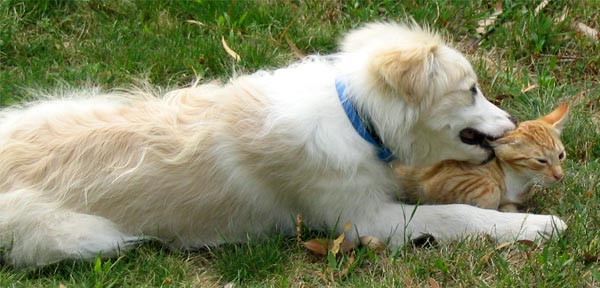 Rusty the Puppy and Smoocher the Ginger Kitten
Hee hee! We are back! With measurements! The archways are to be 1.5 meters wide, and the curved length will be approximately 5 meters from the ground, side to side. Thus I could choose a three meter climber and train it, but I must be careful not to choose vigorous ramblers. Non-gardening partner has now gone off to find the plans he drew for the house rose arches. Ha! Tape measures and now construction plans - he's hooked! It's all on! What a triumph! I may not do much gardening today - perhaps some gentle raking, a little light weeding in the house gardens, and maybe a patio sweep.