Lost in the garden's greenery...
I am still here! Lost in the garden's greenery, amidst a thousand rose blooms - well maybe! There's been a small matter of paid work, which has kept me rather busy, and will not be elaborated on. I must spend the money on new plants!
Rusty the Dog Relaxing
Friday 4th November
Since Tuesday, when November started, I've had just one day in my garden, which I spent happily watering and weeding. The driveway border finally is weeded (and probably well seeded, since I've left things so long). I found some more tomato plants which I've planted in the vege garden. I've also cleared up the narrow border underneath the Mermaid rose (ouch). Now today is another bit-of-a-work-day, but I'll be home by the afternoon.
New Rhododendrons :

My fruit-salad coloured rhododendrons are busy flowering over the water race. They are quite stunning. How lucky for me that their flower colours look good together.
Roses everywhere are now blooming - it's a beautiful sight, and the big yellow irises and the foxgloves quirkily scattered throughout the gardens are up, out, and in glorious flower. Everything is beautiful (like the song!), and I am looking forward to spending a quiet afternoon pottering with Rusty the puppy-dog. I have propped up my peonies with little wire hoops. The water-side flaxes are gleaming in the sun, and the water in the water race sparkles and bubbles as it flows past.
And some of my rhododendrons are being brilliant, though many are oddly in a state of half-and-half - one side flowering, the other side busily making new branchlets and unfurling fresh new leaves. Split personalities? Lovely colours, though!
Right. Off to work I go, with clean fingernails. Hmm...
Saturday 5th November
Last night we had a noisy, howling nor-west wind. There are quite a few small gum tree branches down - I'm off now to assess the damage (hopefully minimal) and shift my hoses. Today will need to be a full-on watering day. I've already weeded and trimmed the house gardens, and pulled out the old forget-me-nots (puppy and I are both covered in sticky 'bidibids' - the name I give to forget-me-not seeds).
New Lavenders in the Stables Garden
It's hot! So after lunch, a cup of coffee, and a quiet read in the Moosey office we (puppy and head-gardener) are going for a walk down the road, and I will take my water bottle. My garden is full of roses! Beautiful! But suddenly, overnight it seems, the lawns are looking scruffy and going brown. Eek!
Much, Much Later...
I am very down-in-the-dumps. My garden desperately needs watering everywhere - Duck Lawn has gone a horrible crackling brown, my new Cornus tree looks sad, and parts of Middle Garden are just awful. I've decided to run the hoses 12/7, shifting them sensibly every two hours. I have been bucketing water onto rhododendrons and roses. I am even watering Duck Lawn - I can remember lying on it, just a few weeks ago, and the grass was soft, green, and lovely.
What I don't understand is how quickly this situation has sneaked up on me. I know I've missed a few gardening days. But I've really been trying to keep up - wandering around looking at flowers, seeing what's next to bloom, and so on. I must be blind! Just a couple of nor-west wind days and the whole garden dries up? Even the irises are wilting? Humph...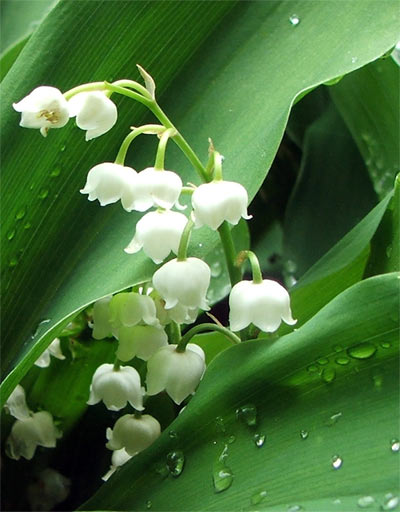 Lily of the Valley
Grumpy Gardener
I will ask Stephen (nicely, without whining) to run the big irrigation on the house gardens tonight. Humph, again, to show my crossness. Sorry to be so grumpy, but I jolly well am!
Sunday 6th November
Right. Regarding the head-grump-gardener of this lovely, expansive, peaceful, and moderately well irrigated country garden. There will be no more 'humphing'. This is a journal of positivity, where small discoveries and little tasks will be gently celebrated.
Shifting the hoses is enjoyable, and women have carried buckets from a water source to a plant for centuries. In fact, to balance weights, they should carry two at a time.
Wind and Water
Wind is one of nature's loveliest and possibly most random wonders. Gardeners who do not stake their Delphiniums may even need reminding - woman does not control wind. Water - if gardeners insist on growing water thirsty plants, they must make a silent commitment to consistently provide. There is no place for grumping and 'humphing'. New roses dug rudely out of a friend's garden will survive, if watered, and new lavenders, although happy eventually in the dry, will welcome a helping watering hand.
Last night the big house irrigation ran for six hours. From the snugness of bed I listened to the whooshing and splattering noises - magic! Today I will keep working my way around the driest areas with my hoses. We are going to visit the local market, maybe to get some new plants. Humbly I remind myself that, if my garden wasn't irrigated, then all I could reasonably grow would be tussock grasses and scrubby native Matagouri. I have lawns, and grow roses, and peonies, and rhododendrons, and dogwoods and maples, and hostas...
Fruhlingsgold Roses
Today will be better! I will behave. I will give thanks, stop moaning, and start doing.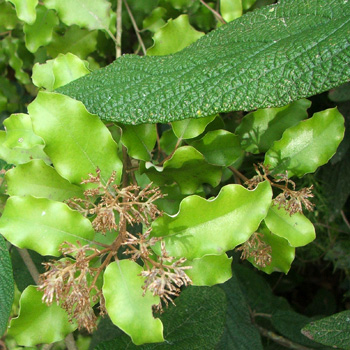 Olearia and Viburnum Leaves
Mid-Afternoon...
I have been doing nicely, but it's a bit drizzly, requiring a complete change of clothing when coming back inside. Unfortunately last night I irrigated both my gumboots and my other gardening shoes. Oops. Anyway, drizzle or no drizzle Duck Lawn is getting watered, as is the new Birthday Rose Garden. I am about to plant some variegated pelargoniums and some dark purple leafed Ajuga in there. At the market I was circumspect - many of the plant stalls were just far too pricey. So I bought three more tomato plants (Amish Paste and Beefsteak) for two dollars and some new socks.
We (that is, head-gardener and non-gardening partner) are about to trim the Olearia hedge. This is a ghastly job to clean up, but the trimmings burn well. Then puppy and I are going walking. I am having a lovely day, even if I am clumping around in ridiculously oversized gumboots (not mine) into which my new socks keep disappearing.
Early Evening...
The hedge is trimmed, and about two thirds of the trimmings are burnt. I do not enjoy this annual garden job. Tomorrow I will clear the rest of the mess. I have achieved much, but I have produced a lot of smoke. Where there is smoke, there is fire! Ha!