Holiday 5 - Scotland
There are still more West Coast of Scotland gardens to visit, some of which are on the Isle of Skye. The car ferry from the Kyle of Lochalsh has been superseded by a huge bridge, and I'm not sure which makes me more nervous!
Plockton Shrub Sale
Saturday 16th June
Today, after going for a walk to Castle Duncraig on a real Scottish rambler's footpath, I am off over the new arched bridge to the Isle of Skye. It looks huge, so I have rationalised thus: follow the car in front, squint eyes so it just looks like a hilly road, and do not on any account peep sideways.
The Bridge to Skye
Later...
My walk was fun, even if I did miss the three-way footpath sign (how?) and had to retrace my steps. The forest is alive with naughty purple flowering rhododendrons which have colonised the West Coast hills.
No bridge problem at all! I'm just back from visiting Armadale Castle and Gardens, and I've seen the best ever set of ponds - three, all at slightly differing levels. Big bronze flaxes are favoured in this garden, and the castle ruins have been incorporated into a garden area, with pots of hostas and gravel beds ringed with roses and maple trees.
Bronze Flaxes in a Scottish Garden
What a lovely, living idea to garden in the ruined castle itself! And I met the castle cat, peeping at me through the crenellations.
Sorrel in the Shrubbery
On the way back I drove down the narrowest road to a private garden listed in the Scotland Gardens yellow book. Interesting - daring to be cheeky, the 'shrubbery' looked more like a 'weedery'. But let those who are without weeds cast the first stone of criticism... And does sorrel count as a weed in Scotland? I know it can be used as a salad vegetable - but I'm afraid it is a super-weed in my garden back home.
Open Garden
Tomorrow I will return to Skye and drive a little further, to the romantic Castle Dunvegan which also has a garden. Now I'm off to the Plockton pub for my evening meal - yet another fish of the day. This little town is very busy - there's been a charity row from Eilean Donan Castle to Duncraig Castle, and the weather has blown everyone in here to finish at Plockton. The rowers are much younger and friskier than the average Plockton visitor!
Duncraig Castle
Sunday 17th June
Highlands of Scotland, famed for your scenery, your beautiful gardens full of New Zealand native plants, and for the purple Rhododendron Ponticum which happily colonises the roadsides - you have been wonderful to visit!
But here's yet another entry for the 'Something I Got Wrong' file. I have just returned from my second day exploring the Isle of Skye. I thought I was going to visit the 'most romantic castle in the world' called Dunvegan. Who told me that? Suffice it to say that I believed them.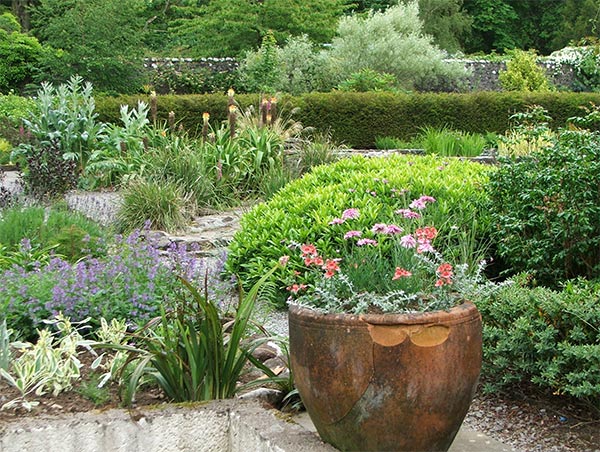 Dunvegan's Walled Garden
Well, it wasn't - but the Victorian Walled Garden was amazing, and I absolutely loved it, taking far too many photographs. Running out of both notebook and camera card at the same time seemed very symbolic - what a well-balanced garden reporter I've turned out to be!
Over the Sea to Skye
The Isle of Skye is a beautiful place - the moorland spaces appear quite desolate, and the hills must be an intrepid walkers' paradise in good summer weather.
Skye Sheep
The gardens, naturally, are full of New Zealand plants. Memo to self - check out the Olearia which is full in creamy-white flower in Scotland's mid-summer. It's beautiful, and I've not seen it before. Well, I haven't noticed it, anyway.
Plockton Sea Wall
I am so sorry that I left my good boots back home. Just before my last Plockton pub meal I took an hour cruise on a seal-watching boat. The lady-wife of the operator offered to lend me her hiking boots - the kindest of offers, made on my very last night in Scotland.