So far, so good for the New Year!
So far, so good for the New Year! I've been busy and happy in the garden every day, nothing is too dry or stressed, and my weeds are moderately under control. I have lots of modest plans - the perfect size for summer gardening days.
Friday 4th January
This is a modular month. I can dead-head ten roses, weed for an hour somewhere - without grumping. I can water one area deeply and properly, find a seat and read the book of the day...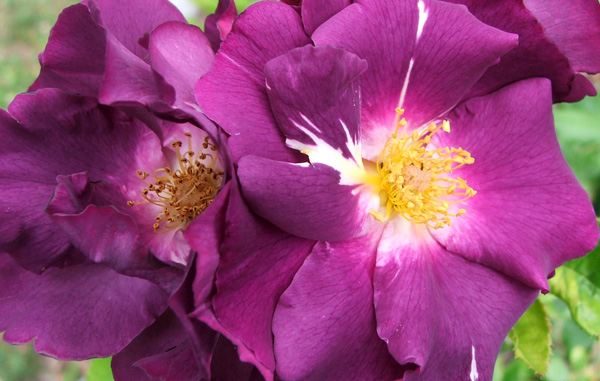 Rhapsody in Blue Roses
Each day I can pick up a maximum of five bags of horse manure to build up the soil behind the pond. My latest plantings are going well, and my little path allows rambling visitors to walk around (mainly) the water's edge. I've learnt from my bus-load of garden-touring ladies - it is always a pity when one cannot walk around a pond or a lake. Ha!
I love summer. There's a lot of shining colour from flowers and summer shrubs like the New Zealand Senecio. The daylilies are blooming, though they're never quite as dense as I expect. My favourite raspberry coloured dwarf ones only have a few flowers, and the Stella D'Oro clumps look like lumps of grass.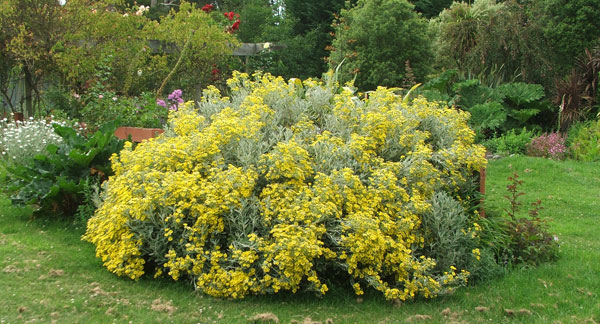 Senecio in Flower
Last winter I thought I did a giant daylily clean-up, totally removing a huge clump of rusty-orange species singles, and shifting a squashed scarlet clump into the resulting open space. Alas, I got things the wrong way around, and my beautiful reds are lost, dumped somewhere under the hedge. Blast!
Today after swimming I have plans to settle quietly in the Wattle Woods with refreshments and garden tools. I can listen to the cricket and clean up the little wriggling stream, in preparation for the new waterwheel. I'll do a trial run with a watering hose. Hopefully I will have company - whistling bellbirds high in the gum trees, and some lazy cats below. And hopefully my two sets of friends will never meet!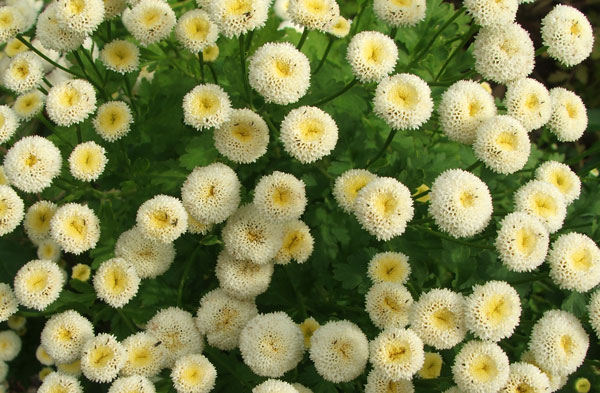 Little Daisies
Later...
I've had a really busy, busy day. The drippers have been on, watering the roses in the Orchard, and I've been test-driving my little stream, which I've cleared. I've transplanted Renga Renga, Fountain grasses, and Pyrethrum daisies - and built a little path from which wanderers can admire the burbling water. My stream is ready for the real thing. I've tidied up the vegetable garden (carrot trees are not a good look) and the little garden by the washing line.
'Stop when you see something, and do it right then and there.'

-Moosey Words of Wisdom.
Honestly, things get done if you just stop when you see something, and do it right then and there! These lists and day-plans I keep on writing are misleading, and unnecessary. They are not organisational essentials, but rather self-indulgent excuses for writing more in the journal.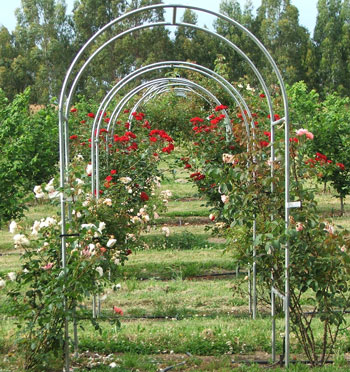 The Rose Avenue - January 2008
Saturday 5th January
Today will be a list-free day. I will find lots of great gardening to do in shady places, preferably free from the advances of my pecky rooster - I'm thinking of the remaining climbing roses in the Hazelnut orchard, needing their bases weeded. While weeding yesterday in my vegetable garden I 'found' several ornamental grasses which need to be transplanted. And my Christmas present irises need to be divided up and planted. The plan is to plant all irises in one garden, which will be called - wait for it - the Iris Garden!
But first - seven bags of ripe and fragrant horse manure are sitting outside the Sleep-out, and members of the extended Moosey household are beginning to complain. 'Rural ambience' is a loosely romantic phrase, but does not include pecky roosters, chainsaws at dawn, bad smells, or buzzing flies. Fair enough. The manure goes behind the pond, covered with wet newspaper and mulch.
Who need a list? I know exactly what I'm doing.
Sunday 6th January
Today I've weeded, and watered, and weeded some more, and then zoomed off to the nursery to buy potting mix, herbs and plants. I also bought two Choisya Sundance shrubs - the golden-leafed Mexican Orange Blossom - which should look lovely behind the pond. And finally, seven new bags of horse manure - that's for the pond garden, for tomorrow.
And I did all of these things without needing to put any or all of them in a list.