Regarding the stone wall...
Ha! I think the stone wall is finished. The fortified soil behind it will still sink a bit, but I'm tempted to do the planting right now. I'm impatient for that 'supposed-to-be-there' look that all decent stone walls have.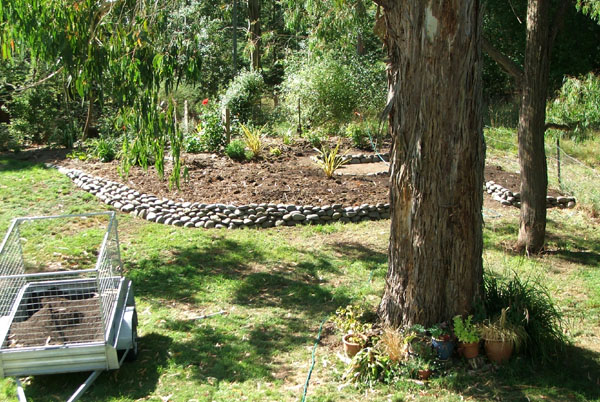 The Stone Wall - Finished?
Monday 17th March
Yesterday I did six hours work on and around my new wall. In fact, every day since I returned from my short West Coast holiday I've 'walled' for at least four hours. Walls are slow. Walls take time. And photographs of walls being built are not at all interesting, so this page is guaranteed to contain random flowery images which have no connection to the twittering journal words. Take, for example, this beautiful lacecap hydrangea, which is flowering at the moment...
Lacecap Hydrangea Flower
Smart Gardening
Today's gardening will need to be focused. I will need to 'garden smart', whatever that can possibly mean for one Head Gardener with one green wheelbarrow, in autumn, with piles of burnable rubbish still messing up the fence-line, squillions of happy weeds in the borders, and swathes of perennials which could or should be cut back. Aargh!
The Moosey Garden Gnome
Later today - oh how social - I have afternoon coffee, a dinner engagement, and then my ladies' choir practice. First thing I am going for a bicycle ride with Rusty the dog, and then I'm zooming off to the gym - my Monday morning's good intentions. I need to buy cat food for eight extra-loving, hungry cats.
Beethoven and Garden Gnomes
Then there's my piano playing - as a relief from the technical difficulties of Albeniz I have dug out the Waldstein Beethoven sonata, not exactly a 'walk in the park', whose first movement always reminds me of a bunch of animate garden gnomes. Despondency strikes - Beethoven sounds so much better in my head than on my fingers, and fence-line rubbish burning becomes quite appealing...
And where exactly is my garden gnome? Yesterday I hunted around the dog kennel rockery shrubs with no success. He has likely fallen into the bathtub full of tadpoles, and I am not keen to upset them by searching. He could be bleached white, or - eek! I've just though of it - he may have dissolved himself in the tadpole water. What a horrible fate!
Later...
My cats love me with my fresh, 100% pure, no-additives cat-beef. I think I might allow myself the day off from the garden. Why not? I've totally run out of money, and therefore cannot reward myself with any nursery purchases. So there's not really much incentive, is there?
Tuesday 18th March
Non-Gardening Partner is back from overseas, and is under strict instructions not to tell me off. While building the new stone wall I - ahem - nearly buried one of his irrigation sprinklers underneath three feet of compost and horse manure. Actually, by sheer good luck, I managed merely to cover it with some low stones, and the sprinkler can easily be put on a stalk to water the new garden properly. Phew!
Mowing the Lawns :

Freshly mown lawns are absolutely magical - and they smell beautiful. They really make the garden look good!
NGP has already mowed the house lawns - in the blink of an eye my scruffy garden borders are transformed into beautiful, well designed, well planted spaces. It's total trickery and illusion!
I've had a lazy gardening day - I've trimmed a few edges, dumped more compost and manure into the new garden, and cleared leaves and muck out of the Wattle Woods stream. That's all. But the sun is shining, it's warm and windless, my roses look rosy, the lawns are magnificent, and the big irrigation goes on tonight. Yippee!
Striped Rose - Oranges and Lemons?
I've just shown the new stone wall to Younger Son of Moosey - he likes it, but with a visitor in tow it looks far too small in scale. I definitely need more stones for the final layers, and the new garden behind it is patiently waiting to be planted!
Wednesday 19th March
Today I have decided to stay home, rather than go walking on the peninsula. So it's vital that I have a productive, busy, and happy day. I'm trying to do things without a list, since I know exactly what should happen: dog-cycling, wall-finishing, rubbish-burning, weeding and watering, piano-playing, swimming after lunchtime - and maybe even some shopping. Some of the great Easter nursery sales have started.
Spot the Weed
And if I am serious about long distance bicycle trips I should be practising. I should pedal off somewhere across country roads to a distant cafe and back.
Lunchtime...
So far, so very good. I've been weeding standing in the water race, prizing up more stones from the bottom, and these are going onto my wall. I have some green ornamental grasses ready to plant on the wall's edge. I haven't done anything totally silly like cycling off to Arthur's Pass for coffee - the Moosey cafe does rather a nice smoked salmon whole-grain sandwich, the coffee is bottomless, and the cafe cats and dog are extremely friendly...