New Stone Wall
The latest feature in the Moosey Garden is a brand new stone retaining wall, behind which is a brand new shrubbery complete with secret courtyard. Oops - yet another new garden area to tend, and plant, and weed...
Making connections...
Good home-grown garden design is often about making the right connections. One day in the year 2006, thinking about a country garden I'd visited, and staring at the scruffiest corner of my own garden, I connected.
The Start of the Stone Wall
Using the natural contours of the land I would create an elegantly curving stone wall, and turn the scruffiest piece of lawn into a beautiful shrubbery. Easy.
Modular Project
Like all my best projects, building the stone wall was extremely modular. The stones were already on the property, edging a couple of overgrown, failed pathways. My home-made compost and wood ash could easily fill in the ground behind - with a bit of help from the horse farm down the road.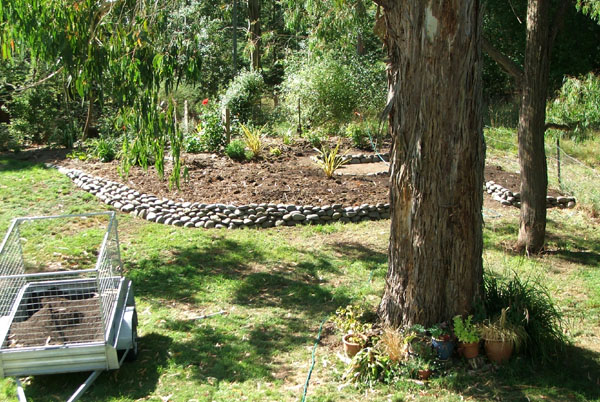 The Stone Wall - Finished?
Each day I wheeled in a few more loads, dug out a bit more lawn, and laid down a few more stones. I kept wandering back inside the house to check 'the look' - my stone wall would be visible from the lounge rooms. I didn't take nearly enough 'before and after' photographs, though. Progress on the wall seemed to be slow - it never looked 'bigger' enough to warrant a picture.
A Secret Courtyard
A feature within a feature - in the middle of the new garden I dug out a small courtyard, a secret place for some garden furniture. It's a perfect spot - afternoon sun, a view of the house gardens, sweeping lawns, restful trees behind. And it's not so far from the house that the cup of tea or coffee gets too cold.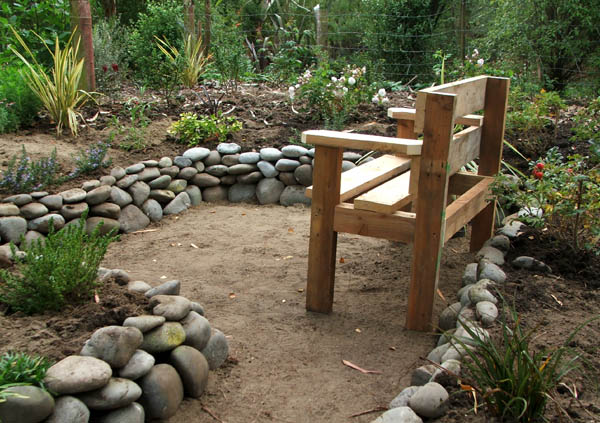 The New Rustic Garden Bench
The planting has been easy - shrubs, shrubs, and more shrubs. I've planted New Zealand flaxes for vertical accents and a strong foliage theme, trailing Rosemaries for the bees, spring daffodils, and many of my favourite natives like Corokias, Astelias, and Pittosporums.
Always Room for Roses
There's always room in a Moosey garden for roses. Several rugosas have been moved in from other parts of the garden, with climbing roses to adorn the old sheep fence. I've also planted two shrubby Blush Noisettes, and promised them tripods if they get too big.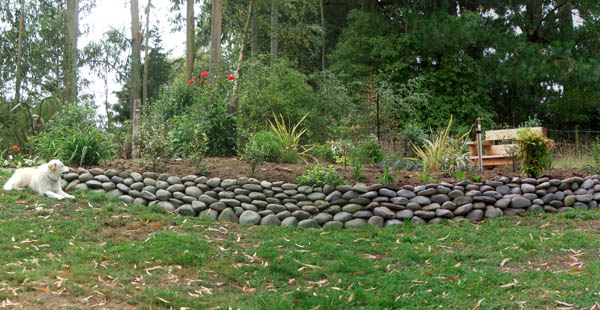 My Stone Wall - Not Finished Yet!
All serious stone retaining walls have vital statistics. My wall used the following:
637 smooth river stones, geologically known as rounded cobbles and boulders of greywacke (grey sandstone).
52 supermarket plastic bags (with a loud environmental 'aargh!) of horse manure.
13 wheelbarrowfuls of home-made compost (complete with annual weeds and rogue potatoes).
1 trailer-load of landscape supply compost.
And how long did this all take?
Idea pops into Head Gardener's head on 3rd March.
First stone laid on 10th March.
Wall, garden and courtyard finished on 20th March.
Planting finished on 24th March.
Ha! Nothing has managed to 'stone-wall' my new stone wall!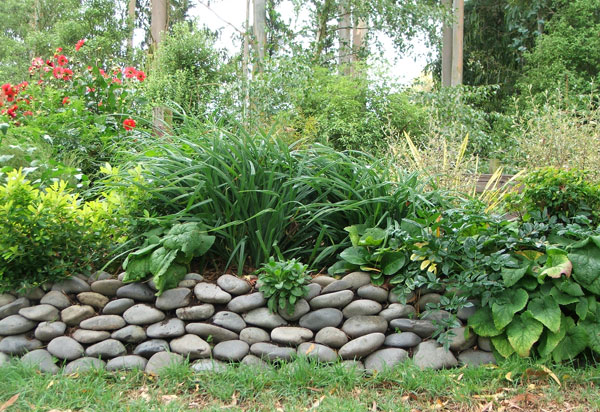 The Moosey Stone Wall