Happy in a rosy, summery garden...
Star of Holland
I've been absent (with leave) from my garden for two whole days - it's so good to be back. It's easy to be happy in a rosy, summery garden, with good dog company, and nice shady seats to relax on.
Monday 24th November
I've had another day off. For the first time ever in my long life I've 'suffered' an allergic reaction - to macademia nuts. I had a rotten night feeling terrible - now I'm OK but my english rose complexion (dream on, old woman!) is super-blotchy and a bit puffy. No photographs allowed!
Thumbnails
So I've been quietly reading, writing, sorting out my garden photographs. I love, love, love creating thumbnails - almost as much as I love taking pictures of my pets and my garden. It must have something to do with loving to collect small things - like stamps, and matchbox cars, and kittens...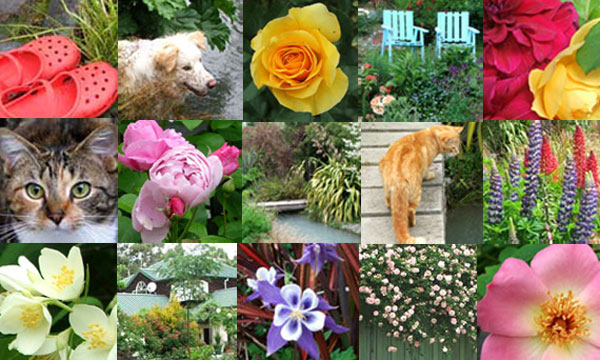 Some Moosey Thumbnails
The wind has been blowing hard outside, anyway, and more of the white peonies have flopped over. Time to venture out to pick some house flowers.
Tuesday 25th November
Rusty the dog and I have been gardening over the water race all morning. I've been using a great system - I trim a section of lawn-edge, then weed the very edge of the garden border (cosmetic gardening), then throw the tennis ball as far as I can (not through the garden).

+10
A Good Team
It's a simple and effective loop for the happiness of both the gardener and the dog. Rusty guards the tennis ball while I move on to the next piece of lawn edge. He doesn't like giving it back, anyway. So we are both satisfied. What a good team!
Summer Gunnera
It's the silly singing season, where my ladies choir gives stylish Christmas concerts full of wassails and lula-lulas. I also transform into a lady tenor for the more mundane (I think I mean 'well-known') Christmas Carols by Candlelight. It's November, moving closer to mid-summer, and the snowy words of 'Good King Wenceslas' don't quite fit.
Scabious
Garden Flowers
Flower-wise the Aquilegias are now almost finished, ready to be trimmed right back. Then they'll grow pretty new ferny foliage, their contribution for later in summer. Lupin flowers, too, are half finished. Blue Scabious plants are in brilliant blue bloom - I grow many on the edges of the garden.
Roses
The roses - wow! Climbers and scramblers draped all over trees, the archway roses now in full flowering swing (how beautiful is Madame Caroline Testout, mother of the hybrid tea roses), the Iceberg roses on fences fresh in bloom, the fragrant Compassion roses by the house patio ready to enjoy and pick for the house...
Countless (and regretfully nameless) David Austin roses scattered throughout the borders looking beautiful in their soft pastel shades... Rescued roses that had to be re-rescued (they were initially planted in silly places) flowering for the first time - what on earth are their names? Doesn't stop them looking extremely beautiful, though...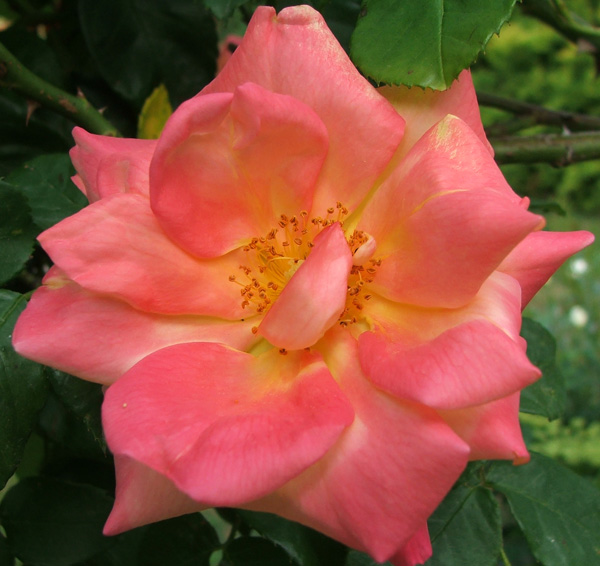 Masquerade Rose
The house pergola rose I brought from my old garden - climbing Masquerade - is still reasonably healthy (cross fingers)...
Rose Ravings
My rose ravings could go on, and on, and on... I have so many photographs, too - watch out for a rose overload! Aha - down to the practical - I'll go and run the dripper irrigation on the archway roses in the orchard for three or four hours. I can also check on my chooks.
Souvenir de Madame Leonie Viennot
Animal News
We've been having hot nor-westers and all the Moosey cats are noticing the heat. Some days I'll have four or five fully stretched-out felines airing their tummies on the cool kitchen floor. One has to watch where one walks! Sadly, gardening cat company drops off slightly in summer. And one ex-wild cat, namely Histeria the tabby, seems to spend all day snoozing in her cat basket, extending a languid paw whenever a person stops to talk to her. Wild thing!
Hen:

I checked on google - some farmers allow two years only for an egg-laying hen. Sounds like the unhappy caged sort.
One of my striped hens has gone really slow and wobbly. She's at least seven years old - a long length of life, chook-wise. I've adopted a wait-and-see approach, but today in the orchard she seemed to be keeping up with the others.
Right. Now I'm going to have a bit of a rest inside. I'm reading a book about a bloke climbing Everest without oxygen - odd reading material for a non-mountaineering older-lady gardener. But it's got me (along with squillions of other non-mountaineer readers, probably) thinking - why do such an edgy thing? And then to write a book about surviving it - how can all the sequences and details (and the edges, not of the gardening kind) possibly be remembered? Hmm...
Late Afternoon...
I've done two more hours weeding in the Willow tree Garden - all remaining forget-me-nots are out, not before Rusty's furry feet became covered in bidibids. My cosmetic gardening idea really works - even if a strip alongside the lawn is the only properly weeded bit, it makes walking around the gardens a real pleasure.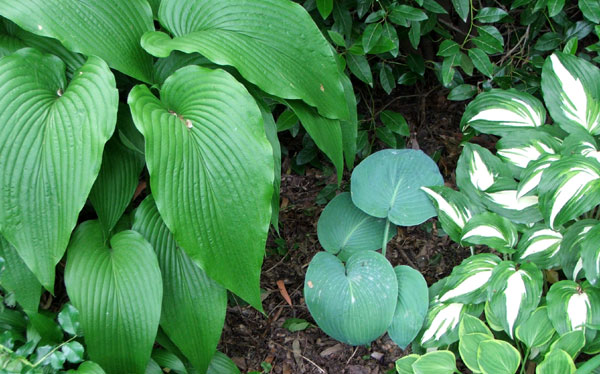 Hostas
The Willow Tree Gardens are very beautiful. Hosta groups are shining and green. A beautiful deep cerise peony is flowering in front of the deepest blue lupins. Roses that I've shifted around look happier than last year. Cross fingers. I also pulled out at least fifty cute little Fastigate Oak treelets. From little acorns mighty oaks would grow, if the gardener was silly enough to let them!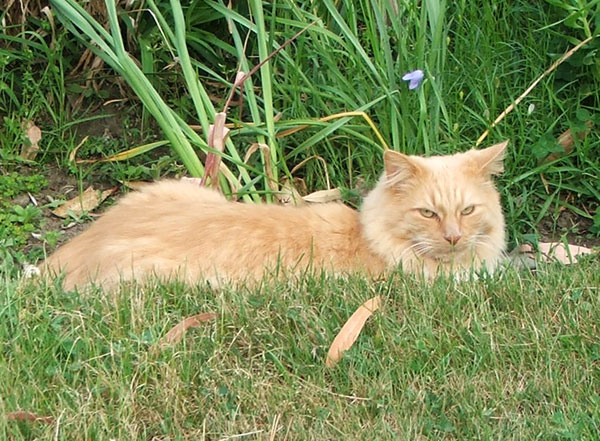 Stop Hiding, Fluff-Fluff the Cat!
I did have three gardening cats following me around, and they, like Rusty, have the sticky bidibids all over their fur. There will be much family grooming tonight!